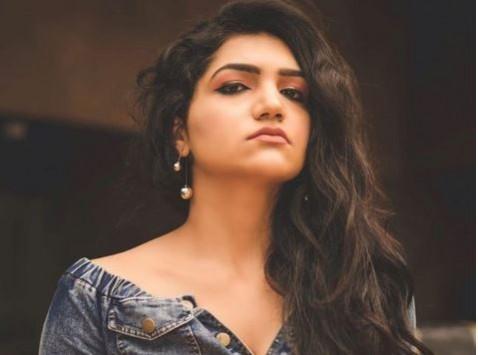 The nomination process for elimination in the second week inside the Bigg Boss 12 came up with some startling names. Karanvir Bohra, Dipika Kakkar, Roshmi Banik, Nirmal Singh, Romil Chaudhary and Kriti Verma were nominated to be evicted this week.
As per our poll predictions, Karanvir Bohra has emerged as the most loved contestant, with the least number of votes against him. His once-good-friend in the house, Kriti Verma has lost all the love she had received from her Roadies fans last week, as the GST inspector has topped the voting process with maximum number of votes against her.
While Karanvir Bohra received 7.78% votes against him, Dipika too, wasn't too ahead in the race. Kakkar received 10.37% votes against her. Between the lawyer-policeman jodi of Nirmal Singh and Romil Chaudhary, Nirmal received 19.6% votes which is nothing in comparison to Romil, who received 21.04% votes against him. However, the most surprising result was that of Kriti Verma and Roshmi Banik. While Roshmi received a meagre 8.07% votes, Kriti received maximum votes with 33.14%.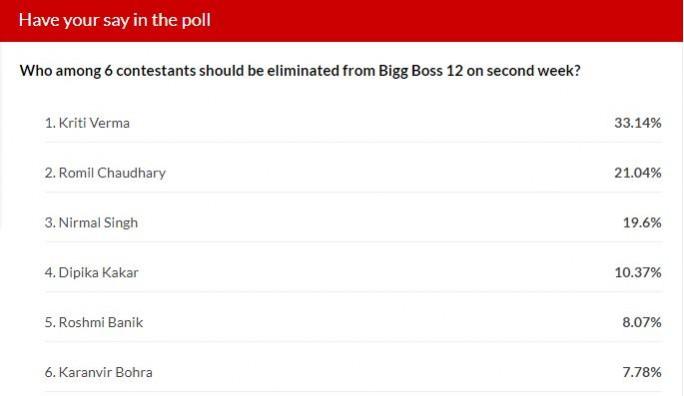 With his friendly and down-to-earth attitude, Karanvir has become one of the favourite contestants of this season, both, within and outside the house. Dipika, due to her bossy attitude, has already made some enemies within the house.
Kriti and Roshmi, whom the audience saved in the first week to help them come together as a jodi on the show, don't seem to be getting the same kind of love anymore. Vikas Gupta, who recently visited the house to give some gyaan to the housemates, had scolded Kriti for the drastic change in her behaviour. He had added that the audience weren't expecting to see this side of her personality and with her attitude, she is making it difficult for Roshmi too, to be in the house peacefully.
Let's see whether the decision of the audience in our poll matches with the elimination this week.