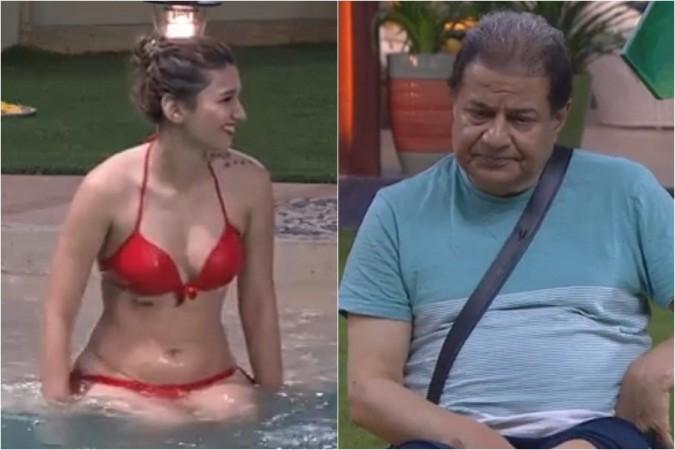 One Bigg Boss task, one nomination challenge and one selfish move by Jasleen and now Anup Jalota is having a hard time believing his partner.
This week's nomination process brought along a major twist. Dipika Kakkar, who has been quite open about not liking Jasleen much, gave such a dare to Jasleen Matharu that shattered her relationship with Anup Jalota. Yes, you read it right. If the video is anything to be believed, Anup Jalota has ended all ties with Matharu and has decided to play the game as single, not as a jodi.
It was the challenge given by Dipika to Jasleen which not only got Jalota and Matharu nominated but also ended their relationship of over 3.5 years. In order to free the Bhajan maestro from the nomination challenge, Dipika had challenged Jasleen to give away all her clothes and make-up to Bigg Boss and chop-off her hair.
Jasleen, not only tried to persuade Dipika that she wouldn't be able to do it but also cried her heart out in front of the housemates. But, to no avail. Dipika refused to budge from her challenge and Jasleen, afraid of losing her "glamour" decided to get nominated instead.
Jasleen's decision not only shocked Anup Jalota but also left him heartbroken. In a Voot video, we see Anup Jalota telling the housemates that what Jasleen did was quite selfish and it's in times like these the real personality of someone comes out.
He further added that Jasleen's self-centered behaviour pained him so much that he couldn't sleep all night and kept thinking about their relationship. He also added that had it been him, he would have easily given away everything to safeguard her.
But, what shocked everyone the most was when Anup Jalota declared that he wouldn't consider himself to be in a relationship with Jasleen and would rather play alone in the house.
A shocked Jasleen tries to reason with him, but, Anup doesn't change his decision. Will the two be able to survive without each other and will the audience like to see them separately, is a question that surely will get an answer by the end of this week.