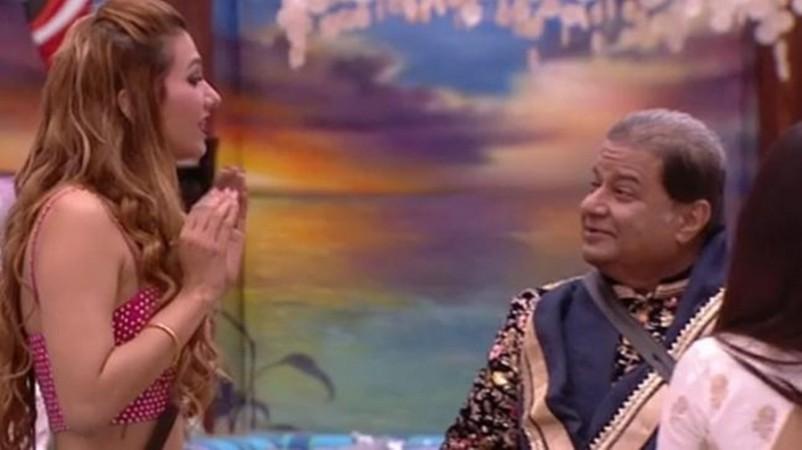 The revelation of 28-year-old Jasleen Matharu's relationship with Bhajan maestro Anup Jalota had raised quite a few eyebrows. And the fact that the duo had been dating secretly for the last three years left many of his fans aghast.
However, as they say, a heart wants what it wants. With time, the industry and the viewers of Bigg Boss 12 seem to have accepted their relationship. Anup Jalota seems to have fallen madly-in-love with Jasleen and vice-versa.
In a recent clip on Voot, Anup Jalota was seen asking Jasleen about her marriage plans which left Jasleen visibly blushing.
In the clip, Jasleen was seen having a heart talk with Saurabh Patel and Anup Jalota in the kitchen. Boasting her cooking skills, Jasleen had told Saurabh that after coming to the house she had also learnt how to make ghiya sabzi and can make it on her own from now on. Anup Jalota, while making chapattis, tells her, "Isiliye to laaye hain tumhe yahaan."
Jalota goes on to ask her whether she will cook after marriage or not. His question leaves Jasleen blushing to the core and Saurabh could be seen enjoying this light moment between the couple.
While the huge gap between the two and the lack of passion or chemistry has made many speculate that the duo is just faking it to be on the show, we can't deny the fact that Jasleen has been taking care of Anup Jalota within the house the most. From taking care of his chai-paani to his medicines, Jasleen makes sure not to let Jalota face any kind of discomfort.
In a press conference held within the house, Jasleen has refused to refer to him as her boyfriend, saying it would be inappropriate for his age. However, she didn't think twice before kissing his face all over with her lipstick and asking him not to remove it till she asks him to.
Well, the weird chemistry between the two is what has kept the viewers glued to the screen. What new chapter of their love-life will we get to see within the house, time will say!