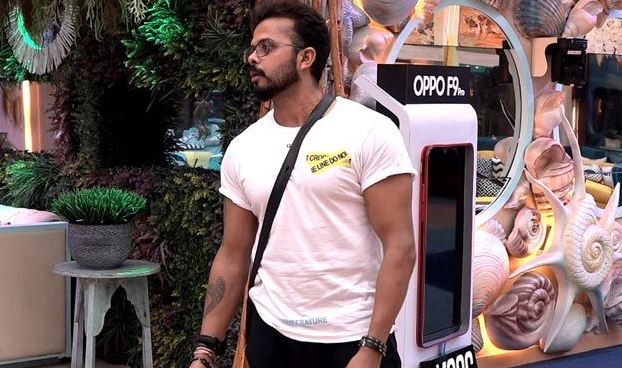 "Shame on Bigg Boss", "Bigg Boss cheated viewers" have been trending on Twitter ever since the reports of Sreesanth being declared as the winner of the 12th season of the controversial reality show.
Disappointed viewers have been accusing the makers of Bigg Boss 12 of being biased since the beginning and making Sreesanth the winner of the season. They have been slamming Bigg Boss 12 for playing with their emotions by manipulating viewers with their dirty 'scripted' game just to raise the Television Rating Point (TRP) of the show.
According to The Khabri, Karanvir Bohra and Romil Chaudhary have been eliminated from the Bigg Boss 12 finale race narrowing down the top 3 finalists to Deepak Thakur, Dipika Kakkar and Sreesanth.
Many viewers have been calling out Bigg Boss 12 of making Sreesanth their fixed winner of the season by being partial to him for 104 days and called it the worst season ever.
"The most loved reality show it used to be now @BiggBoss is just scripted show and nothing else where they don't consider people's Votes and emotions. This season they have crossed all the limits of biasednes," an angry viewers wrote on Twitter.
In a attempt to protest against the biasedness of the show, viewers started trending "#BBCheatedViewers", "#FixedWinner" on Twitter. And it has now taken the social media platform by storm where viewers have been venting out their anger and sharing their disappointment with the show.
It is also being said that Deepak and Sreesanth will remain the top 2 finalists and Sreesanth would be announced as the winner of Bigg Boss 12 by host Salman Khan.
Check out some of the tweets.
The most loved reality show it used to be now @BiggBoss is just scripted show and nothing else where they don't consider people's Votes and emotions.

This season they have crossed all the limits of biasednes

RT if you're agree #BBCheatedViewers

— Sagar TEAM KVB (@segy22991) December 30, 2018
Pehle hi din se hi hme yakeen tha ki tum apne favourites ko jitne waale ho @ColorsTV, @EndemolShineIND lekin fir bhi thora bahoot believe tha ki itna partial nhi honge tum log lekin tum logo ne suchhe fan ka majak uraya hai, #shameonbiggboss #BBCheatedViewers — Wasim akram (@akramwasim98) December 30, 2018
They are making the abuser shree win wtf!!!! How can they let him In top 2 over a person who is respectful dignified and humble.. fuck your show @biggboss never watching this shit again #bb12 #biggboss12 #BBCheatedViewers @EndemolShineIND

— Madia Ahmed (@MadiaQadir) December 30, 2018
Pride of the country was banned long ago.. Congratulations for the fixed victory Sreefam#BBCheatedViewers — Prashika Romil Won Hearts (@PrashikaB) December 30, 2018
#Sreesanth as winner would be a fitting successor to #ShilpaShinde ! Fixed winners who did nothing throughout the season, never performed tasks and yet emerged winners. Sree adds bad behaviour, abuses and unnecessary aggression as well.

Well done #BiggBoss12 #BBCheatedViewers

— IndianFanGirl (@Bertiewooster06) December 30, 2018
#BBCheatedViewers Every year BB plays its game and makes a fool out of the audience This year a clear looser was made a winner by being partial to him for 104 days Wrost Season Ever #BB12@Sudhanshu_Vats @rajcheerfull @ColorsTV @BiggBoss @EndemolShineIND — Bigg Boss Fever (@BiggBossFever) December 30, 2018
BB13 auditions
selector: kya qualities hai aapki
Contestant1 :dusro se pyar se rahta hu,,dusro ko izzat deta hu, entertain karta hu
Rejected ❌
Contestant 2 : show ko gali dunga izzat nahi karunga kisi ki sirf aapnna randi rona karunga
Selected ✔️#BBCheatedViewers @thekhbri

— mdirish (@mdirish4) December 30, 2018
@BiggBoss ki TRP agli sal orbhi niche jayega, bcz #BB12 its all about makers choice, viewers ki and vote koi value nehi hain. Ek irritating and ek abuser ko top 2 main leke ja rahe ho to #Swamiom & #priyanka_jagga kovi winner bana deta achha hota.#BBCheatedViewers — Sabarni Ghosh (@SabarniGhosh3) December 30, 2018