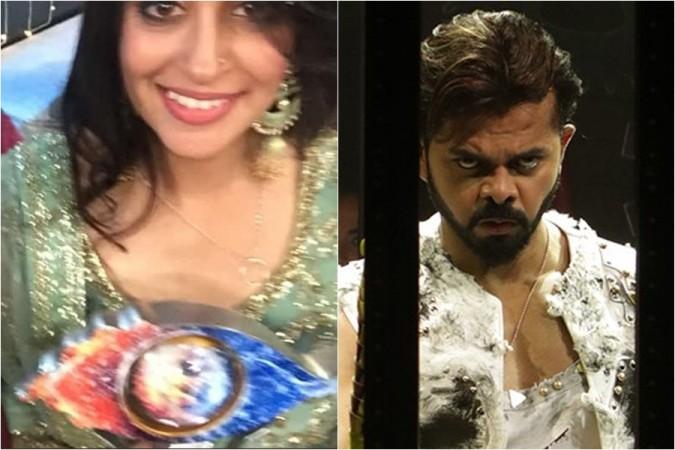 11:50 pm - And Dipika Kakkar is the winner of Bigg Boss 12!
11:45 pm - Sreesanth and Dipika are on the stage for the final result.
11:35 pm - Sreesanth and Dipika enthrall their fans with their camaraderie and super cute dance.
11:25 pm - It's the time for battle between Dipika Kakkar and Sreesanth to the race to finale.
11:20 pm - Deepak Thakur has decided to quit Bigg Boss 12 finale for Money Briefcase worth Rs 20 lacs. Now Dipika and Sreesanth are just one step short of lifting the Bigg Boss 12 winner's trophy.
11:19 pm - 20 lac exit money or title of the winner; what would Deepak choose?
11:10 pm - It's time for one of the finalists to choose between the exit money suitcase or gamble their position in the game.
10:59 pm - Salman says that everything and everyone inside the house revolved around Sreesanth and his strategy might have worked.
10:50 pm - Salman calls anchor Dibang on video who takes him to Jamia. People at Jamia are debating who is a more deserving - Sreesanth or Dipika.
10:32 pm - Contestants of 'Khatron Ke Khiladi' and the three finalists give a fiery and fiesty performance!
10:31 pm - Romil joins Salman Khan on the stage. He gives away his bracelet to Salman Khan to give it to his father. Romil feels that Deepak should win. However, logically he feels, Sreesanth would win.
10:28 pm - Deepak, Sreesanth and Dipika are still in the running to win the trophy.
10:26 pm - Sreesanth and Dipika are safe and are in the top three. And Romil is out of the race at the fourth spot.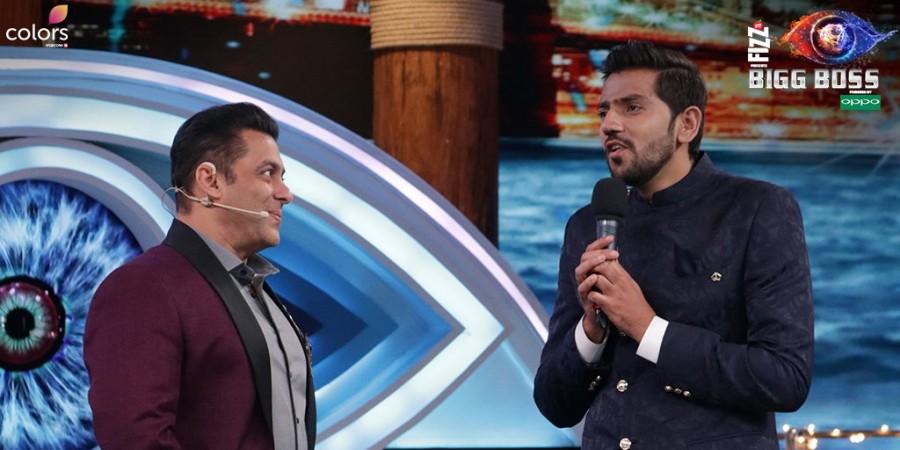 10:24 pm - Rohit Shetty is here to give the four finalists a taste of his movies. One of them would be evicted in a filmy way from the show. Who would it be?
10:15 pm - Rohit Shetty enters the house to throw out one contestant from the show. Who do you think the next one to be given the axe would be?
10:10 pm - Bharti and Salman are giving us major couple goals with their zhakkas dance performance together.
10:09 pm - Superstar of films, Salman Khan and superstar of television, Bharti - what great combo! Bharti and the audience are all for it. But is Salman ready? We don't think so.
10:07 pm - Is Bharti, Salman's dream girl? Well, that's what the comedy queen feels!
10:05 pm - Bharti enters the stage and starts romancing Salman. She also makes fun of the insane amount of money she and Salman make through Bigg Boss.
10:02 pm - Deepak and Somi Khan dance to a wonderful song sung by Deepak.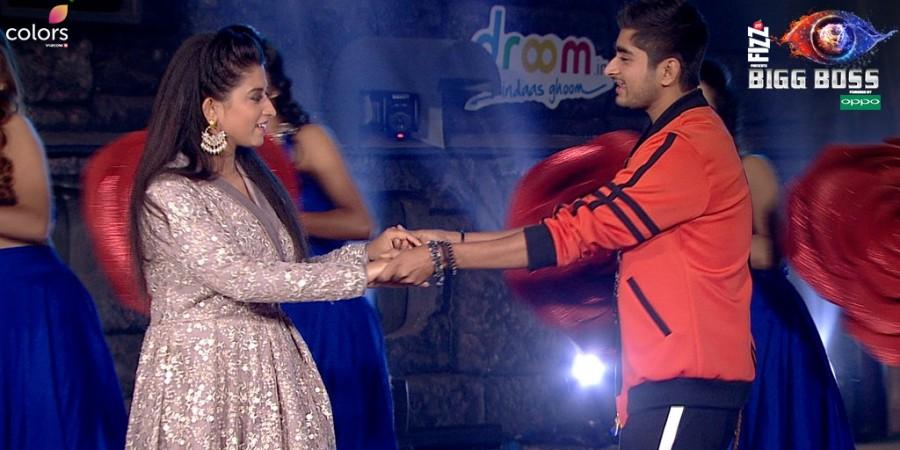 9:58 pm - Deepak is shown a video from his hometown. People from his village praise him for reaching this stage. Salman informs them that Deepak has reached top four which makes them even more happy.
9:54 pm - Karanvir says that Deepak might emerge out to be the winner of the show. Neha Pendse says that she felt KV would be evicted at first as goodness doesn't always go a long way.
9:52 pm - The one contestant who is out of the winning race is Karanvir. KV is the first finalist to be evicted tonight at the fifth spot.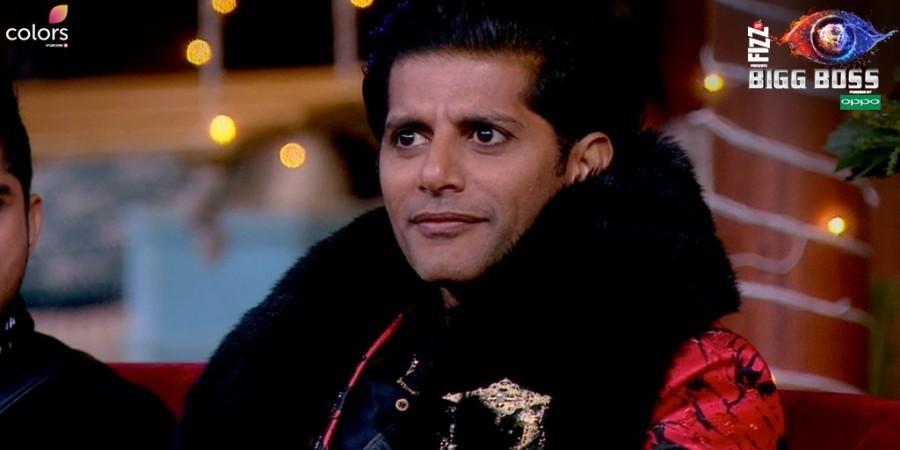 9:49 pm - Salman enters the house again through video chat.
9:48 pm - What's the twist in the game? Salman Khan says that the top three would be given an option to choose either the trophy or suitcase filled with money.
9:44 pm - It's time for auctioning housemates' articles. Bharti proposes to auction Sreesanth's dumbles, Deepak's smelling towel, Karanvir's Lokhandwala jacket, Dipika's tear-filled drum.
After lightening up the mood of the house, Bharti leaves the Bigg Boss house.
9:38 pm - Bharti Singh also calls Deepak, Bigg Boss house's 'Ramu Kaka'. She also makes fun of Karanvir and his unique dressing sense. She adds that he should fire his current stylist and get a new one.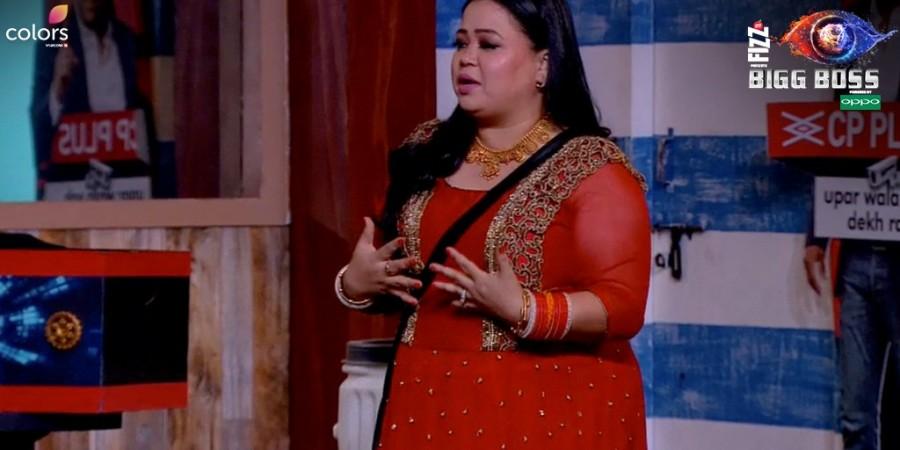 9:36 pm - Bharti Singh enters the house to entertain the finalists. Bharti praises all the contestants in her own way for dressing up in style.
9:34 pm - It's time for a dance face-off between Karanvir, Sreesanth and Romil. Sreesanth, Karanvir and Romil are giving each other tough competition on the song 'Khali bali'.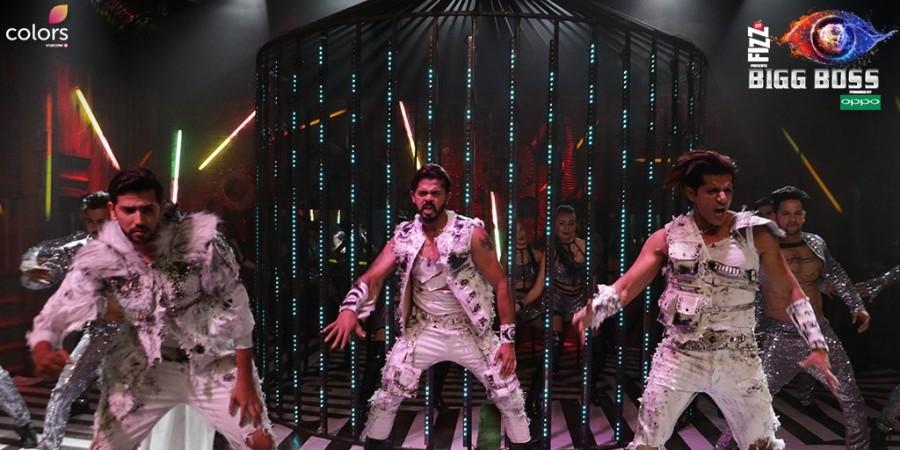 9:32 pm - Salman then connects Romil to the people from Karnal through a video call. Romil thanks them all for their support and love.
9:31 pm - Salman talks to them through video call. His fans are certain that he would win the show hands down.
9:30 pm - Salman shows us a video from Romil's hometown Karnal where all his fans have gathered to shower their best wishes to him.
9:29 pm - It's time for Salman Khan to declare who is that one contestant who is out of the race at the fifth position!
9:27 pm - Salman takes a dig at Deepak and says that Deepak has so many fans outside the house that they had to increase his security. He then shows Megha and Urvashi to the finalists.
9:26 pm - Salman Khan then shows the finalists the shining Bigg Boss 12 trophy.
9:25 pm - Salman throws some uncomfortable questions pertaining to Somi Khan in front of Deepak. Deepak shies away as his parents are also there amongst the audience.
9:24 pm - Salman asks Dipika when was the first time she cried inside the house. He reminds her that she cried on the fourth day during the raja-rani task.
9:22 pm - Salman says that the makers of the show had kept a man specially to count the numbers of times he threatened to leave the house. Salman jokes that it was almost 299 times.
9:20 pm - Sreesanth's wife is also there in the audience alongwith Karanvir's wife and mother. Deepak's parents are also there in the audience.
9:19 pm - Romil gets emotional seeing his father among the audience. His father praises him and says that he has been receiving congratulatory calls from abroad.
9:18 pm - Elated housemates break down upon seeing the clip. Finalists wish Salman Khan a belated happy birthday.
9:16 pm - Karanvir's father praises his 'mahanta' and says he is happy that KV didn't leave his originality even after going to the show. Sreesanth's wife praises Sreesanth for taking care of everyone in the family.
9:14 pm - Bigg Boss shows a video to Deepak of his parents. Dipika's mother-in-law also speaks about her and says she loves Dipika more than her own son. Romil's father also gets emotional while praising his son.
9:12 pm - Bigg Boss interacts with the finalists and congratulates them for making it to the finale. Bigg Boss asks the housemates to raise a toast to themselves.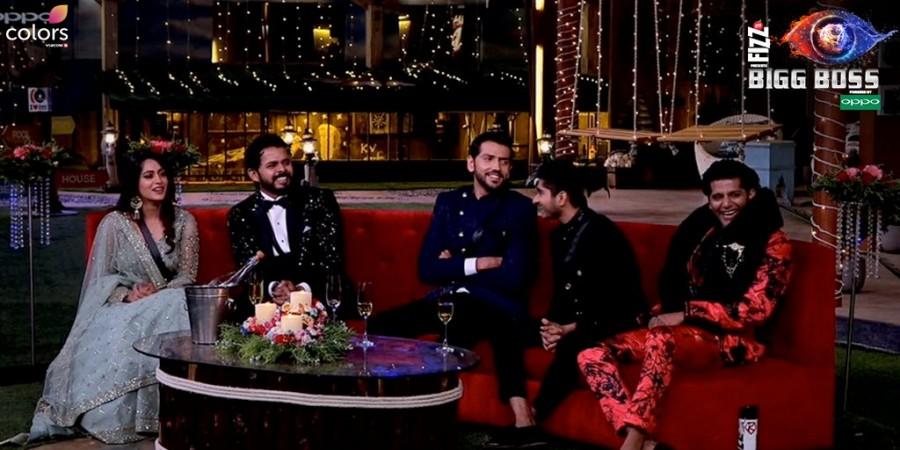 9:11 pm - Urvashi Vani feels Deepak deserves to win the show but might not be able to win it. Neha Pendse feels either Deepak or Sreesanth would win the show.
9:10 pm - Somi Khan, who is here to attend the finale says that Deepak has maximum chances of winning the show. Megha Dhade feels all those who have made it to the top five are winners but Sreesanth has maximum chances of waking away with the trophy tonight.
9:08 pm - Salman Khan is back on the stage to kick-start the grand finale night and declare one among the top five as the winner. In a surprising revelation, Salman reveals that breaking all previous records from previous seasons, more than one crore people have voted for the finale night this year.
Brace yourselves for a fabulous, entertaining, fun-filled night.
9:05 pm - Deepak is here to steal Salman's thunder with his epic moves on 'Bajaye Pandey ji seeti'. Romil too joins in the fun. Karanvir makes a kick-ass entry with his killer moves on 'Jumme ki raat hai'.
9:02 pm - From 20 to 5; it's finally the night when India would choose it's next Bigg Boss winner!
With just a few hours left for the Bigg Boss 12 grand finale, social media has been flooded with tweets and trends related to the show. While hashtags like #Sreesanthfixedwinner and @BBcheatedviewers have been trending since last night, the latest update is bound to leave you shocked.
As per the Twitter page – TheKhbri – Romil Chaudhary and Karanvir Bohra have been evicted from the show before the grand finale. That means Deepak Thakur, Sreesanth and Dipika Kakkar are the final top three.
As per reports, Romil decided to walk away with the suitcase money while Karanvir was evicted at the fourth spot.
Fans have taken to social media in large numbers to accuse the makers of being biased towards Dipika Kakkar and Sreesanth from the beginning.
Sit back with some popcorn and cocoa and watch this space for live updates from tonight's grand finale episode at 9 pm.