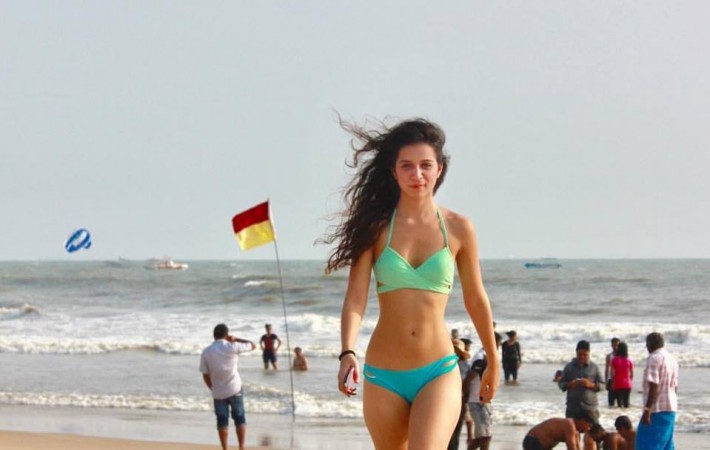 The upcoming Sunday episode (Weekend Ka Vaar) of Bigg Boss 11 will see Benafsha Soonawala getting eliminated from the house.
ALSO READ: Oh God! Bigg Boss 11 contestant Puneesh Sharma and Bandgi Kalra want to have a 'quickie' in bathroom [VIDEO]
While the official announcement of the elimination will be made by host Salman Khan during the episode, viewers have revealed the name on Twitter. Check out the tweets: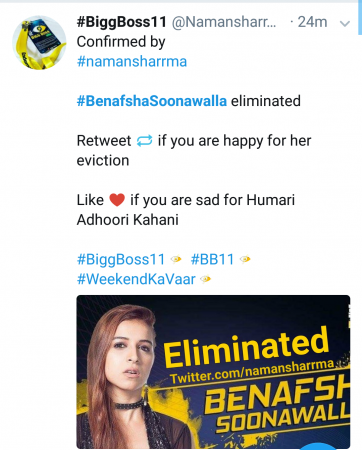 Three contestants – Hina Khan, Benafsha Soonawalla and Sapna Choudhary – had been nominated for eviction in Week 7.
ALSO READ: Player or Lover? Curious case of Priyank Sharma's Girlfriends: Timeline of his contradictory statements [VIDEO]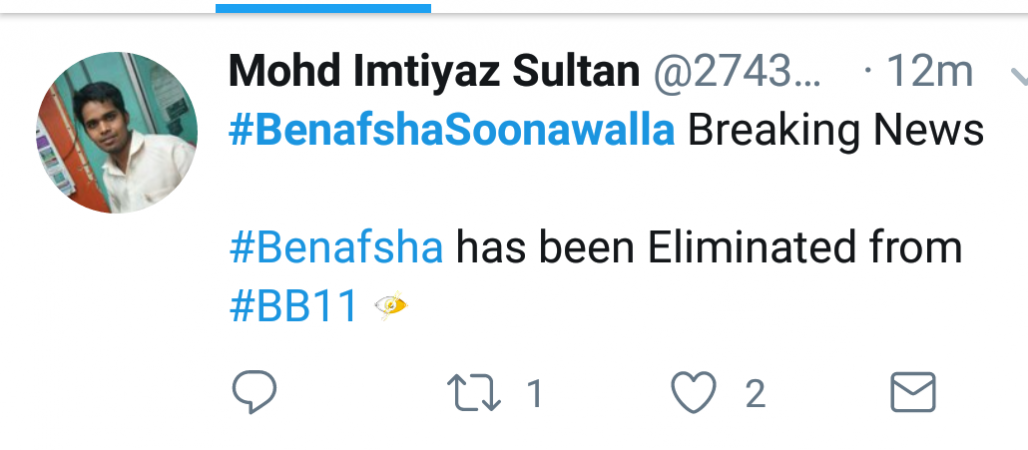 International Business Times, India, also conducted a poll a few days ago to know which contestant the viewers want eliminated this week.
In the end, 66.67 percent of those who participated said they want Benafsha out of the house.
Hina got the second highest number of votes — 20.83 percent — while Sapna got the least number of votes at 12.5 percent.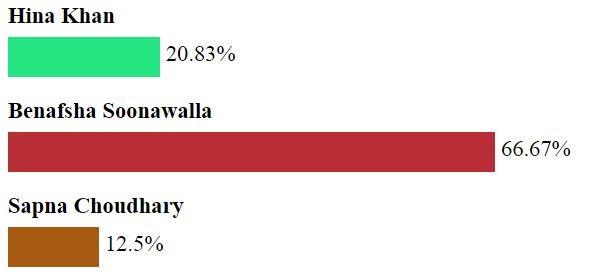 Going by the poll results, it seems viewers aren't quite happy with Benafsha's stint inside the house. Her over-friendly behaviour with Priyank Sharma hasn't gone down well with fans.
In addition, her boyfriend Varun Sood had requested fans on social media to not vote for Benafsha as he felt her image was getting spoilt without she realising it. He wanted her to get evicted from the show so he could talk to her and sort out some issues.
ALSO READ: Bigg Boss 11: Puneesh Sharma-Bandgi Kalra's 'Mistake' in a Bathroom; Priyank Sharma-Benafsha sleep on the same bed [VIDEO]
Earlier, rumour had it that there would be no eviction this week as the show had already witnessed a double eviction the previous week. Further, it had been reported that Hina would be sent to a secret room.