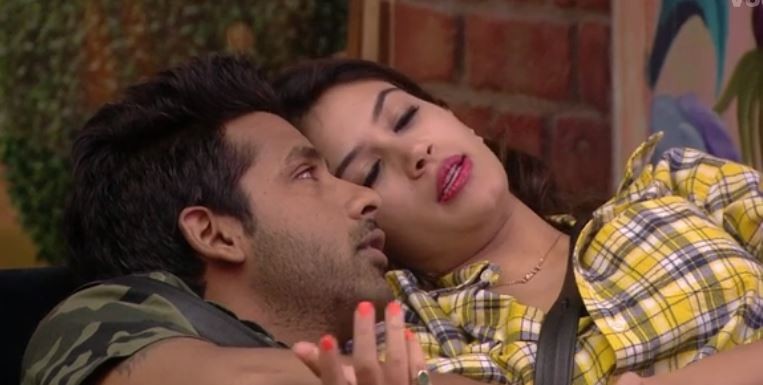 Bandgi Kalra and Puneesh Sharma's over the top PDA has been annoying not just their co-contestants but also the viewers. Their romance has gone from cute to dirty and wild.
Now the couple is talking about having a quickie. Puneesh is explaining Bandgi how it is not important to sleep and 'have it' and they can do it in the bathroom. He further goes on to tell her that they can 'do it' in 10 minutes also.
Recently, Puneesh was also heard telling Bandgi to remove her clothes while under the sheet despite Salman Khan warning them to not get cosy on national television and embarrass their parents. More recently, the lovebirds were seen sneaking into the bathroom together.
ALSO READ: Bigg Boss 11 Eviction: Benafsha Soonawala has been eliminated from the show
Due to her vulgar and indecent acts, it has been reported that her landlord has informed Bandgi's friend that she should hunt for a new house as soon as she is out of Bigg Boss 11. The landlord took the decision as his housing society members felt that her presence would have a negative influence on the children of the locality.
"Her landlord does not want her to stay in his house and has informed her close friend that she should pack her bags and hunt for another house as soon as she's back from Bigg Boss 11," a source told Tellychakkar.com.
"The landlord has no personal issues with her. It is because the society in which she lives, is a very reputed one, and they don't wish that she should continue to reside there anymore. Hence, he is ready to throw her out as soon as she's out of the Bigg Boss 11 house," added the source.
One person who is deeply hurt is Bandgi's boyfriend Dennis Nagpal.
The heartbroken man said he had never thought to see Bandgi cheating on him and making out with somebody on national television. Dennis said he initially thought Bandgi and Puneesh were faking their love story, but now he is certain they are in a relationship.
"They might have started off like that but this is real. I have been part of directing reality shows earlier, so I understand what is real and what isn't. This is not fake at all. Initially, it looked fake for the first two days perhaps but then you can clearly make out that they are into each other. She probably did this to be in the house as she did not have anything else to offer. She is not aggressive or violent but then this is too much. To make out with a guy on TV is too much and I am deeply hurt," Dennis told Pinkvilla.