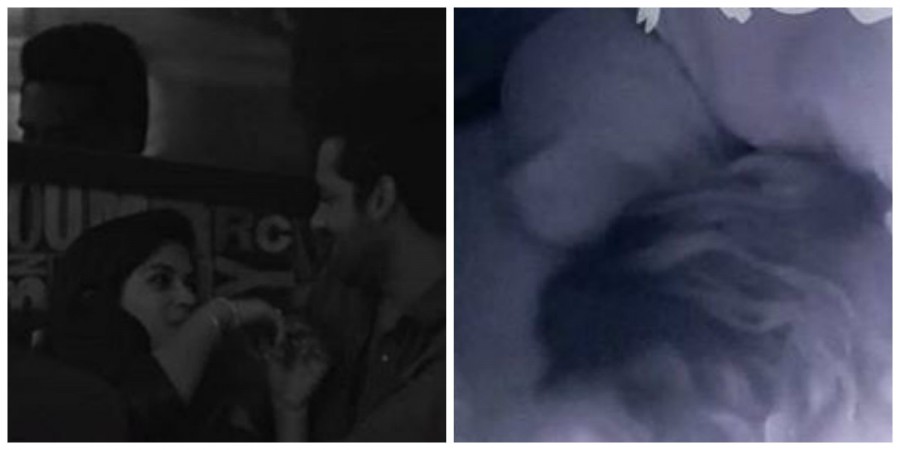 Even after Salman Khan warned Bandgi Kalra and Puneesh Sharma to take care what they show on camera, looks like the love birds are in their own bubble.
In the latest episode aired on November 14, Puneesh Sharma was seen sneaking inside the bathroom with Bandgi Kalra. And later at night Puneesh said: "What is done is done", the couple's conversation hinted how their families will not appreciate what they are doing. Bandgi said: "My parents won't accept me back." Bandgi further added: "You made me do another mistake".
Well, only time will tell how truly the duo is in love with each other.
Host Salman Khan warned the couple on November 12: "Your parents are also watching this show so you have to be very careful of what you want to show on TV. Be very careful what are you displaying on national television."
ALSO READ: Bigg Boss 11: Yuck! Puneesh Sharma asks Bandgi Kalra to remove her clothes and more dirty talks continue [VIDEO]
To which Puneesh replied: "We'll take care."
And later one of the uncut scenes titled "It's only you and me" appeared on the Voot website on Monday, November 13, and shows the couple talking dirty!
Puneesh asks Bandgi to remove her shorts, Bandgi agrees and says she will unbutton it for him, and the conversation goes ahead. (CLICK HERE to watch the video)
Meanwhile, Priyank Sharma and Benafsha Soonawala's closeness is on some other level. The episode ended on the two so-called 'friends' sharing the bed together. Benafsha came in with her quilt and joined Priyank. After which Puneesh got up and asked Hiten to see what was happening.
Well, we wonder what Benafsha's boyfriend Varun Sood has to say about this.
Later on the Voot website, one of the uncut scenes shows Priyank clarifying that nothing happened between the two as Benafsha's lipstick remained as it is. But well... (CLICK HERE to watch the video)
Priyank's girlfriend Divya was irked by his physical involvement with Benafsha on the show. She raised a valid question while speaking with International Business Times, India: "So, what is the difference between a friendship and a relationship? Isn't there suppose to be a boundary? Physical involvement is the only difference between the two things, aise to sab kuch same lagega fir [then everything will seem the same]."
She added: "When Benafsha asked Priyank whether he has been close to any of his other female friends like the way he is with Benaf, he said 'No'. I am shocked. So, what was he doing with me? Yes, we never stayed together under one roof but the way he wakes up Benaf, looks for her in the morning, treats her, kisses her, etc — Priyank did the exact same things with me in Splitsvilla.