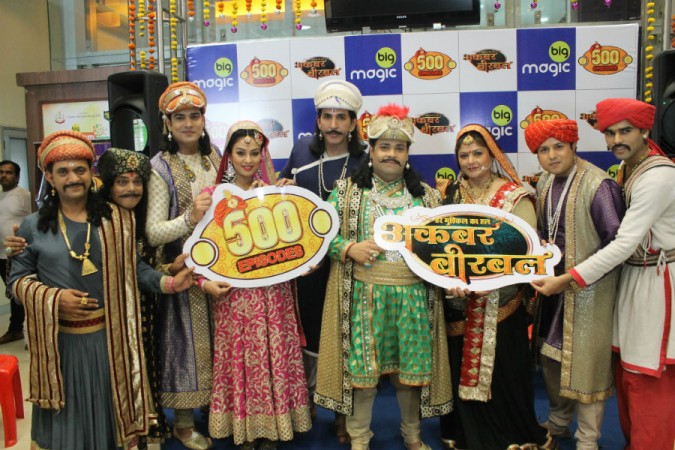 Har Mushkil Ka Hal Akbar Birbal has set up a new milestone with the completion of 500 episodes. The bosses of BIG Magic celebrated this success with the entire cast and crew of the marquee show.
Har Mushkil Ka Hal Akbar Birbal historical featuring Kiku Sharda and Vishal Kotian in the titular roles, is historical comedy TV series, which went on air on BIG Magic from April 28 2014. The flagship show gained popularity within a short span of time and won the hearts of millions of viewers. With its 500th episode aired on September 26, the show has become the India's first ever historical comedy series.
The show has redefined the comedy genre through its interesting and engaging content. "As one would expect with any special journey, it has been an emotional, yet remarkable ride. The character of Akbar, among other characters that I portray on TV, has consistently been the most loved by my fans," Kiku Sharda says
"It is a moment of joy and celebration for BIG Magic and the entire family of 'Har Mushkil Ka Hal Akbar Birbal' as our efforts have clearly paid off. I can only hope and pray that viewers continue to shower us with love, as they have always done. Looking forward to achieving more such milestones with BIG Magic's historical comedy," the on-screen Akbar adds.
The bosses of the TV channel are all thrilled over the the successful completion of 500 episodes of Akbar Birbal. "It is a moment of pride for the entire BIG Magic family, as we thank the audience for showing so much love and appreciation towards 'Har Mushkil Ka Hal Akbar Birbal' and its characters," a BIG Magic spokesperson says.
"The achievement is a result of the combination of great team work, and more importantly great content. With every passing episode and season, we strive to formulate engaging content which ensures an enjoyable experience for the viewers. Through 'Har Mushkil Ka Hal Akbar Birbal', we hope to continue catering to the entertainment needs of a large and steadily growing audience base in future as well," he adds.