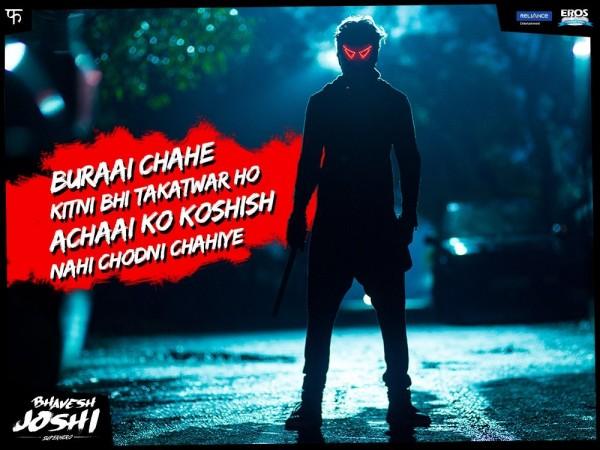 Harshvardhan Kapoor's second film Bhavesh Joshi Superhero has opened with positive reviews from critics. The reviewers have praised the film for the actors' performances, storyline and the direction.
Bhavesh Joshi Superhero is an action drama, which is written and directed by Vikramaditya Motwane. The film features Harshvardhan in the lead role and Priyanshu Painyuli, Nishikant Kamat and Radhika Apte as the supporting cast. The film also features Arjun Kapoor in a special dance number.
The film is about corruption and how a common man like Bhavesh Joshi deals with it. Motwane said the socio-political situation in the country inspired him to come up with the film. The film focuses on real issues that are faced by common man.
But has this anti-corruption film impressed the critics? Several reviewers have said the film is not entirely perfect, but it can be watched in theatres.
Read the critics review of Harshvardhan Kapoor's Bhavesh Joshi Superhero below:
Nandini Ramnath of Scroll.in said that Harshvardhan Kapoor is a good fit for the titular role. However, she says that the film loses its way after interval. "The story's real superhero isn't Harshvadhan Kapoor's dull Sikandar, but Priyanshu Painyuli's passionate Bhavesh," she added.
Tushar P Joshi of BollywoodLife.com said that the film has uneven action drama but Harshvardhan's raw appeal comes to the rescue. "Bhavesh Joshi has moments and scenes that will resonate with a lot of socio-political issues in the country right now. Watch it if you have the palette for something different than the usual."
Zoom reviewer said Bhavesh Joshi is an engaging affair and the Vikramaditya Motwane's direction is good. "The film is realistic, taut and gritty so far. What we see on screen is actually what many of us has gone through – corruption," the reviewer said.
Neil Soans of The Times of India said the film needs to be appreciated. The film doesn't succeed completely but it can be worth a watch. "Gorgeous camerawork and excellent editing allow you to take in all the action. Harshvardhan Kapoor shows growth as an actor in his second outing, but what stands out is the supporting cast," Soans added.
Rohit Vats of Hindustan Times said that it is an intriguing film, but it could have been a better film if it was a bit shorter. "Harshvardhan Kapoor has come up with an honest performance. At 155-minute, Bhavesh Joshi Superhero has a lot to offer," Vats said.
Lakshana N Palat of India Today said the film deals with vigilante justice in a raw form. "It's relatable, and you can believe it, because it's what's happening all around us."
Kunal Guha of Mumbai Mirror said the film can become a surprise superhit of the year. "This renders a realism that makes him vulnerable to blows, ensures he doesn't always land his uppercuts precisely and only occasionally, manages to dodge the jabs," he said.