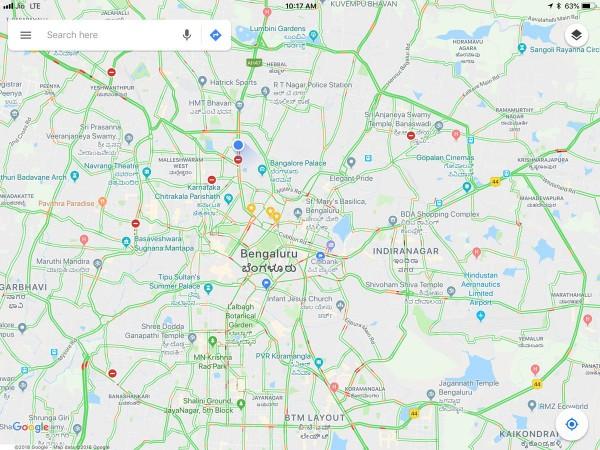 Bengaluru Traffic Police was up for a lovely surprise on Monday, September 10 morning as the city's legendary Monday morning rush hour traffic took a hit due to the nationwide protest called by opposition parties to protest against the rising fuel prices in the country.
The silicon city experiences its worst traffic congestion on Monday mornings when people head to their workplaces. The city has been witnessing a phenomenal growth in vehicle population and as a result most of the arterial roads and intersections operate over capacity. The average journey speeds on some of the roads in the city's central area is as low as 15kmph in peak hours.
In December 2017, a report had suggested that the city had nearly 7.3 million vehicles which indicated an increase in the number of vehicles by 74 percent from 2012. According to data shared by the transport department in March this year, the vehicle population in the city crossed 72.58 lakh, out which over 50 lakh were two-wheelers and 14 lakh were cars.
The reason behind the increase in vehicles is the steady expansion of the tech industry in large parts of the city which has resulted in migrants from all over the country moving to Bangalore for jobs. While the population of the city was 8.4 million in 2011, in 2014 it had gone up to an estimated 10.2 million. However, the city's roads, bus services, and the Namma metro service have failed to keep pace with the population influx.
However, on Monday, September 10 morning, the city traffic police was surprised to see a huge difference in the flow of traffic during Monday morning peak hours. Additional CP, Traffic R Hitendra took to his twitter handle to share a map which showed smooth flow of traffic during the rush hours. "10.18 AM, Monday morning, the map is like this. BTP surely missing the Monday peak hour routine," the officer wrote on a lighter note.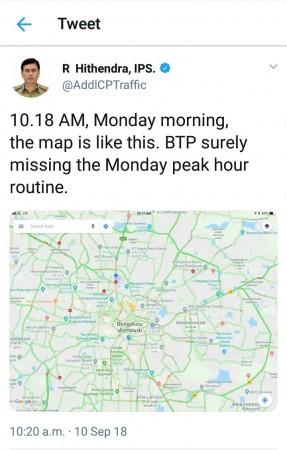 City dwellers commented on Hitendra's post saying that they wished that the situation was the same on every day in the city. Some even said that the situation would be the same everyday if the Metro would reach most important places in the city. Some were also happy a large part of the map showed green while others were happy that the traffic police would get some relief because of the nationwide shutdown.
The Karnataka capital is witnessing a total shutdown as many schools and colleges remained closed in wake of the Bharat Bandh and most of the professionals preferred working out of their homes owing to the absence of public transport and the lack of autos and app-based cab services.