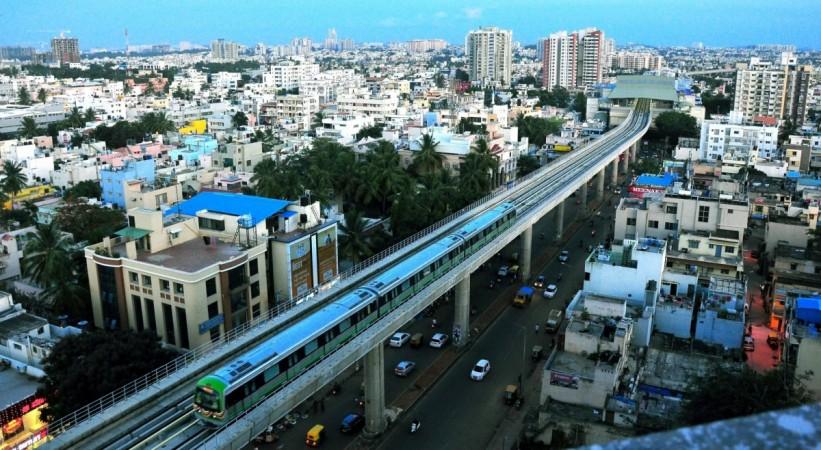 Bengaluru has witnessed a 130% increase in the number of vehicles registered in the city in the last decade. Over the last few years, Bengalureans' dependence on the Namma Metro has increased and it seems like the metro is doing good on its part.
A report published in the Bangalore Mirror has revealed that BMRCL registered a record ridership on Friday carrying as many as 4,23,098 passengers. The transport corporation earned Rs 1,03,68,148 on the same day, according to Metro officials. The report says that while the Purple Line of the metro recorded a ridership of 2,30,993 passengers, a total of 1,92,105 passengers took the Green Line. The fare revenue break-up stood at Rs 50,85,711 for the Purple Line and Rs 52,82,437 for the Green Line, according to a tweet by CPRO UA Vasanth Rao.
According to sources, the rise in the ridership on Friday was probably due to new six-car train which has its first coach reserved exclusively for ladies. Taking a cue from the Delhi metro, the BMRCL has decided to keep the first coach of the metro trains reserved for ladies. Other reasons for the sudden increase in the number of commuters in the Namma metro are heavy rains and the ever increasing traffic in the city.
The previous record in ridership was registered back in January this year when around 4.11 lakh commuters had taken the Namma Metro.
What's interesting is that even though the Purple line recorded a higher ridership than the Green Line, the revenue collected on the Green Line was higher. According to the BMRCL, the revenue is based on the number of long-distance commuters rather than the number of riders.
"The distance of Purple Line (18.22 km) is less than Green Line (24.20 km). Green Line will connect one end to the other end of the city. Hence, people from Nagasandra will travel distant places like Baiyyappanahalli. It's all about the distance travelled, " Bangalore Mirror quoted CPRO Vasanth Rao as saying.
The news brings hope to city dwellers battling daily traffic jams. Over 75 lakh vehicles ply on the roads of Bengaluru on a daily basis, which indicates a decrease in the number of people using public transport.