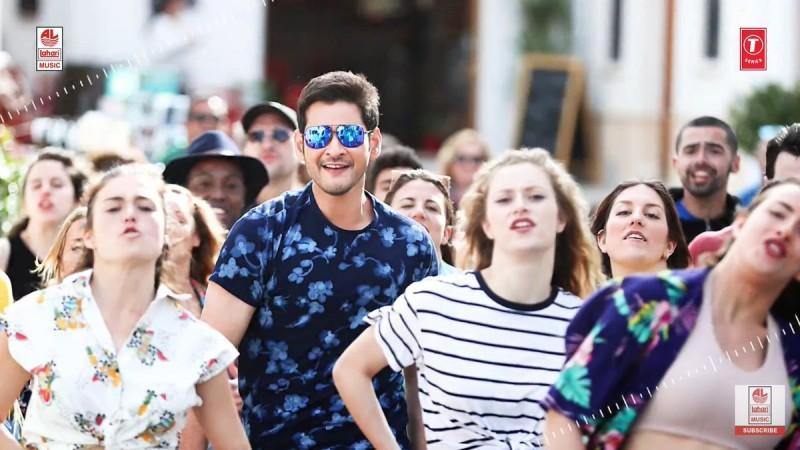 I Don't Know, the second song from Mahesh Babu's Bharat Ane Nenu (BAN), which has been crooned by Farhan Akhtar, has wowed the Telugu audience with its lyrical video crossing 1 million views.
I Don't Know, written by Ramajogaiah Sastry, states that life is all about learning and one should never say that you know everything. The soundtrack advocates that art of living means the art of learning. It is the philosophy of the hero in Bharat Ane Nenu played by Mahesh Babu.
Devi Sri Prasad, who has scored the music for Bharat Ane Nenu, has composed some of the trendy beats. Bollywood actor Farhan Akhtar is making his debut as a singer in south Indian films and his voice coupled with foot-tapping music has struck a chord with the listeners. This soundtrack is expected to flood the actor-turned-singer with many offers down south.
The makers of Bharat Ane Nenu released the lyrical video of I Don't Know on the YouTube channel of Lahari Music on Sunday morning. The lyrical video of the song 'I don't know' has received 1,041,583 views 101,000 likes and 6,494 comments in four hours. The first song of the film had crossed 1 million views in just two hours, but its second track has failed to beat this record.
But whoever has listened to the song is impressed and could not stop gushing about it. While some were hearing it repeatedly, others took to Twitter to share their reviews on the song. Here are their comments.
Vincent M‏ @Vincy7M_
Art of living ante... Art of loving anthe...#IDontKnow Beats peaks Music arachakam @ramjowrites and @ThisIsDSP killed it... @urstrulyMahesh @sivakoratala @DVVEnts @LahariMusic
Lokeshchandra‏ @Lokeshchandra15
@ramjowrites Superb ramjo garu chala clearga neatga undhi lyrics, chala joyfull lengthy and catchy unndi music lyricski thaggatuga thank you so much Ramjo garu
Urstruly Krish‏ @panthangi94
#IDontKnow @FarOutAkhtar sir welcome to TFI Rockstar @ramjowrites gaaru Mee lyrics ki shatha koti dandalu @sivakoratala Tq sir maa @urstrulyMahesh Annaya ultra stylish unnaru @ThisIsDSP Annaya ❤ no words from ur music block buster album on d way
శివానంద్ రెడ్డి‏ @Mr__Shivanand
Visual Feast for audience..#Superstar in ultra stylish Avatar after #Khaleja Sundari song. Refreshing and meaningful lyrics penned by @ramjowrites Garu @FarOutAkhtar u beauty #IDontKnow
Satish Ane Nenu‏ @Maheshcultfan
#IDontKnow Art of living ante Art of learning anthe @ramjowrites Lyrics @ThisIsDSP refreshing Music
Vamsi kiran‏ @urstrulyVamsip
Vamsi kiran Retweeted Mahesh Babu Yes..... Never Say that I know Everything...... No one Knows Everything.... Simply amazing Song..... With a Beautiful message @urstrulyMahesh @ThisIsDSP @sivakoratala @ramjowrites @sivakoratala
Rajashekar Ane Nenu‏ @RajashekarNell2
@ramjowrites excellent lyrics superbbb asalu 1000 times vinna takkuvey @ThisIsDSP Gave mind blowing music @FarOutAkhtar Joshful singer #BharatMonthBegins #BharatAneNenu2ndSingle
Mahesh Army Ane Memu‏ @urstrulyMBarmy
Kickass Song Loved This Song #IdontKnow @ramjowrites ❤️ Thank U So Much Sir @ThisIsDSP Music Adaragotaav Kadha Anna @urstrulyMahesh In A stylish Look CHAALU SAAMI CHAALU _/_ watch The Song Here