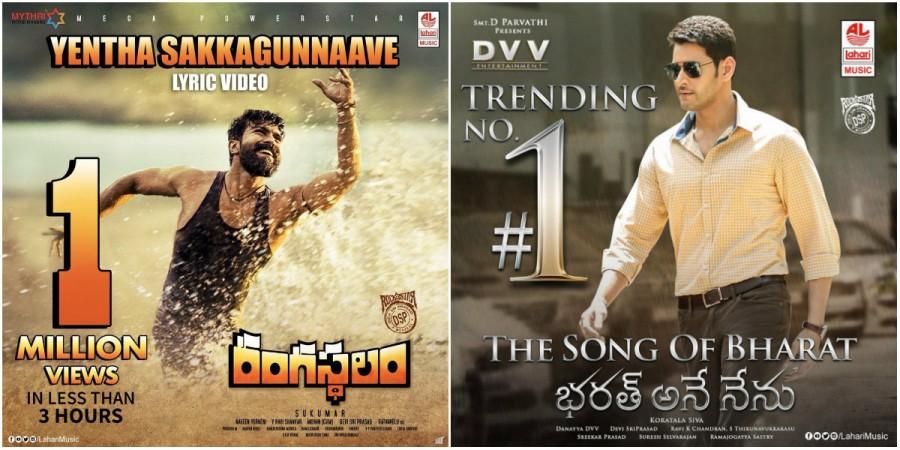 'This is Me', the first song from Bharat Ane Nenu (BAN) has beaten the record of Rangasthalam's first single Yentha Sakkagunnaave. Mahesh Babu, Koratala Siva and other team members have thanked fans.
Having impressed the cine-goers with its posters and teaser, fans were eagerly waiting for the release of Bharat Ane Nenu songs. The makers of the movie released the lyrical video of its first song 'This is Me' as a Ram Navami treat for the fans on Lahari Music's YouTube channel, Sunday. This soundtrack opened to great response with its link going viral on the social media.
The song crossed 1 million views and 100K likes on YouTube in two hours of its release. The bosses of Lahari Music tweeted, "More than 100K likes for #TheSongOfBharat on Youtube... Love you all for the wonderful response :) 1 Million+ Realtime Views for #TheSongOfBharat... CM on FIREEEEE... ⚡️"
Pawan Kalyan sung Baitikochi Chusthe, the first song from Agnyaathavaasi had received 1 million views in 8 hours. Sainika, the first single from Allu Arjun's Naa Peru Surya went on to cross this mark in 7 hours. Rangasthalam's first single Yentha Sakkagunnaave smashed both these records with its view count crossing 1 million mark in just 3 hours. The song of Bharat has smashed all these records in just 2 hours.
'This is Me' has impressed not just the music lovers, but also many celebs, who took to Twitter to share their excitement over the first song from Bharat Ane Nenu.
Siddharth: Powerful Telugu song from #BharatAneNenu beautiful lyrics from Ramajogayya garu. Masterclass from @ThisIsDSP Important emotions for the Telugu states at a troubling time. All the best @urstrulyMahesh @sivakoratala & team! "Balamivvani padavulu deniki? "
Meher Ramesh: CM(Chief Minister) to CM(Common Man) ,voter,politician,Leader,Govt Employ,youth,social activist,Media,Must listen this Meaningful,soulful Song @ramjowrites @ThisIsDSP @urstrulyMahesh @sivakoratala Great Work
Director Bobby: It looks like the promise that will be remembered forever. An epic oath with unmatchable lyrics of @ramjowrites garu and incredible music of our @ThisIsDSP. Waiting for the vision of @sivakoratala Garu.
Anil Ravipudi: #BharathAneNenu....of the people..for the people..by the people..prathinidhi ga...superb... @ThisIsDSP Garu..nd @ramjowrites Anna garu.. @urstrulyMahesh @sivakoratala
'This is Me' has received 3,082,372 views, 187,000 likes and 16,186 comments in 24 hours. Mahesh Babu, Koratala Siva, Devi Sri Prasad and Ramajogaiah Sastry are thrilled over the massive response and took to Twitter to thank the music lovers.
Superstar Mahesh Babu: Humbled, overwhelmed, grateful... Thanking each and everyone who have showered so much love on #TheSongofBharat A special thanks to @ThisIsDSP @ramjowrites and @sivakoratala sir for creating such a haunting masterpiece.
Director Koratala Siva: Thank u all for the tremendous positive response for the #TheSongOfBharat. I sincerely thank @ThisIsDSP and @ramjowrites for creating this beautiful musical package.
Music director Devi Sri Prasad: All Thaaanks to you Dear saaar vaaru for ur Amazing Vision for #BharatAneNenu which resulted in the creation of this song !!#TheSongOfBharat !! Thaanx to Dear @ramjowrites sir for the Awesome Thought Provoking Lyrics !! ❤️ Thanx to each n everyone 4 loving d song❤️
Lyricist Ramajogaiah Sastry: To all those pats n praises...a very big humble All credits to @urstrulyMahesh garu @sivakoratala garu n @ThisIsDSP garu...i am just a smaller part of a greater vision ముందుంది ఇంకా...మ్యూజిక్కు పండగ