I Don't Know, the second song from Koratala Siva's Bharat Ane Nenu (BAN) starring Mahesh Babu and Kiara Advani, was released on Lahari Music's YouTube channel Sunday, and Farhan Akhtar has made his debut in Tollywood with this track.
After a long wait, the makers of Bharat Ane Nenu released its first song This is Me on the internet last Sunday, and it went on to receive a fantastic response from music lovers. The song of Bharat registered 6,494,130 views, 241,000 likes and 21,383 comments on the YouTube channel of Lahari Music in seven days.
Devi Sri Prasad took to Twitter and wrote March 30: "Here's a Surprise frm d Team of #BAN !! Launching our Second Song from #BharatAneNenu, #IDontKnowOn1st ! Can U guess d Singer?!? Its not @urstrulyMahesh garu ! wl reveal at 10AM tmrw.. @sivakoratala @dvvents @ramjowrites @advani_kiara @dop_tirru @dop007 keep Guessing!! "
Devi Sri Prasad revealed the singer of I Don't Know on Saturday and it is none other Bollywood actor-cum-singer Farhan Akhtar, who is making his debut as a singer in the south Indian film industry with this song. The music director thanked him for his support and hoped that it would make for a super-hit soundtrack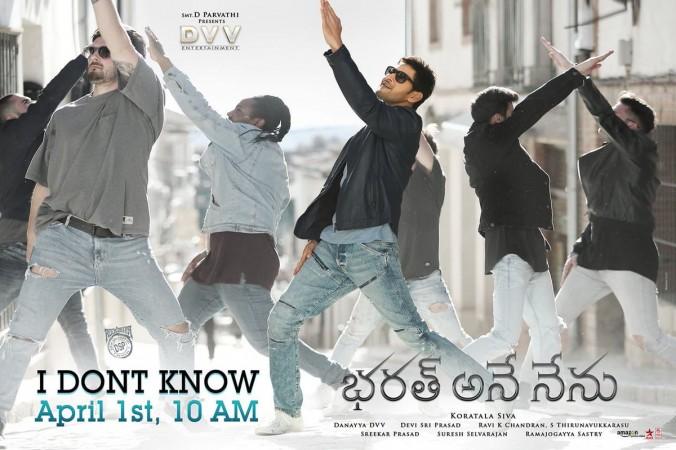 The composer tweeted, "So..Revealing d singer of #IDontknowfromtomorrow !! 1st time in a South Indian Language..Its d Amazing @FarOutAkhtar ! It was Electrifying workin with U sir ! U Rocked ! All r gona Love it!Thank U! @urstrulymahesh @sivakoratala @dvvents @ramjowrites @advani_kiara @dop_tirru
Superstar Mahesh Babu also took to Twitter to share the news about the release of the second song from Bharat Ane Nenu. The superstar released a poster and wrote: "I don't know. Tomorrow. 10 AM."
Ramajogaiah Sastry, who has written the lyrics for the second track of Bharat Ane Nenu, hinted that I Don't Know is about the philosophy of the hero. He tweeted: "Bharath has an interesting philosophy to share...am sure u will like his thought process I dont know అంటాడే కానీ point blank...he knows n practices..d essence of life"
Lahari Music released the lyric video of I Don't Know from Bharat Ane Nenu on its YouTube channel at the promised time. Mahesh Babu shared the link to the soundtrack on his Twitter handle and wrote: "Let's make learning an everyday process, let's make #IDontKnow an anthem to achieve it. @FarOutAkhtar @ThisisDSP" Click on the video above to listen to the song.