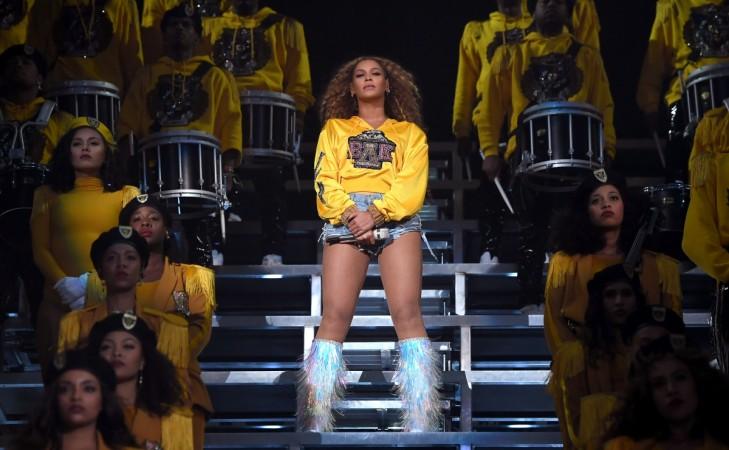 Beyoncé proved she's bigger than Coachella over the weekend. The singer took to the valley to put up an epic performance wherein she changed five outfits, repainted her nails to match her dresses, hosted a Destiny's Child reunion and made history by becoming the first black woman to headline the music festival.
Although that was a perfect blend to a memorable weekend, one of Beyoncé's outfit decided to spice things up. Queen Bey suffered an embarrassing wardrobe malfunction during the course of her performance.
The 36-year-old took to the stage wearing a camo bodysuit with thigh-high boots. While she was performing her set during the Destiny's Child reunion with Kelly Rowland and Michelle Williams, the hand on to the strap of her top prevented an embarrassing nip-slip.
The strap of her over-the-knee boots dropped as well during the same performance. But this did not stop the artist from putting up an epic gig.
Several A-list celebrities including Kim Kardashian, Kylie and Kendall Jenner, Taylor Swift, Scarlett Johansson, Blake Lively and more have been seen styled in a Balmain outfit.
For Beyoncé's outfit, Rousteing told Vogue that he was "looking for something in a military style for the singer to wear at Coachella. "Marni told me that the shows were all about survivors and that B was looking for something in a military style. Our silhouettes and our sort of Mad Max, futuristic take on military looks for Fall were a perfect fit," he told the fashion outlet.
As part of her Coachella wardrobe, Rousting, Senofonte and Beyoncé's team created two custom Balmain stage wardrobes, one for each weekend at the valley.