Amidst the grand celebrations of the festival of lights, India witnessed a spike in the pollution. The country's capital, Delhi, registered worst air quality after Diwali celebrations defied SC's ban on bursting crackers. As a result, the city's air quality deteriorated to "hazardous" as a thick layer of smog engulfed Delhi on Thursday.
With an alarming AQI (air quality index) score, people are exposed to serious health risks. Staying indoors may not be enough to stay clear of the infectious smog and pollution. People must make sure the air quality inside their homes in just as safe. To do so, the best possible way is to install a certified air purifier.
As the country, especially some parts like Delhi, faces severe air pollution, companies have come up with new and effective models to purify air inside homes and offices at least. Here are some of the best air purifiers money can buy in India for effective air purification:
Mi Air Purifier 2S – Rs 8,999
Xiaomi stepped into this new product category and has challenged the existing players with its affordable approach. If you're on a cash crunch, the Mi Air Purifier 2S is the right choice. It is priced at Rs 8,999, a fraction when compared to air purifiers from other brands. It comes with 360-degree air-intake vents and three-layer filters, including HEPA and activated carbon.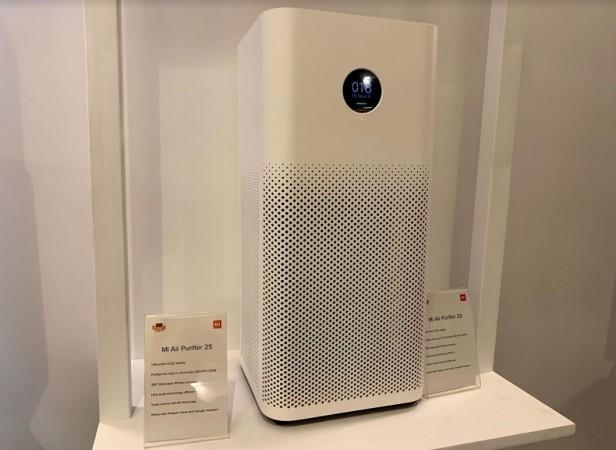 The Mi Air Purifier 2S is H11-grade and rated at 310 m3/h CADR, which makes it perfect for small rooms. The purifier comes with its own app and also has controls on the machine for quicker access and glance at the air quality in real-time.
Dyson Pure Cool – Rs 44,900
But if budget is not a defining factor, Dyson's Pure Cool air purifier is one-of-its-kind. The unique design is like nothing we've seen in other air purifiers. The company claims the purifier can clean a whole room by capturing 99.95 percent of harmful pollutants as small as 0.1 microns. Dyson Air Cool comes with automatic real-time air quality detection, activated carbon filter, Glass HEPA filter and Air Multiplier technology that delivers over 360 liters per second powerful airflow. There are different modes and self-explanatory controls even via the app that contributes to an overall premium experience.
Dyson Pure Cool is available for Rs 44,900.
Sharp Air Purifier cum Mosquito Catcher – Rs 30,000
Speaking of being different, Sharp combined an air purifier and mosquito catcher in one device. Sharp FP-GM50E-B cleans the air effectively in a 450 sq ft room and even kills mosquitoes. The purifier comes with Passive HEPA and Active Filteration certified Plasmacluster Technology for thorough purification.
Sharp has priced its Air Purifier cum Mosquito Catcher at Rs 30,000 and it is available across all major retail outlets in India.
Honeywell AirTouch i8 – Rs 14,999
Honeywell's AirTouch i8 is an ideal combination of powerful air purifier and affordable pricing. It comes with 300 m3/h CADR rating, a unique fall-proof design, and effective purification with its HEPA and HiSiv filters. The AirTouch i8 can capture pollutants as tiny as 0.3 um and also eliminates formaldehyde, volatile organic compounds and odour.
Honeywell AirTouch i8 is priced around Rs 14,999 in India.
Philips 2000 series AeraSense AC2887 – Rs 16,500
The upgraded 2000 series Philips AeraSense AC2887 from the company's 1000 series has managed to find the right price point to attract buyers after several price cuts. The purifier comes with a multi-layer filter, including HEPA and activated carbon for effective cleaning. It comes with 333 m3/h CARD rating, best suited for large rooms.
With all the features and a compact design, Philips 2000 series AeraSense AC2887 is priced at around Rs 16,500.