Not all Jio prepaid plans have been revised, but only the most popular ones. Users can still find all the recharge options starting from Rs. 19 all the way up to Rs. 9,999 on the official website. But the revised plans come with extended validity for users to enjoy Jio's services over a longer duration.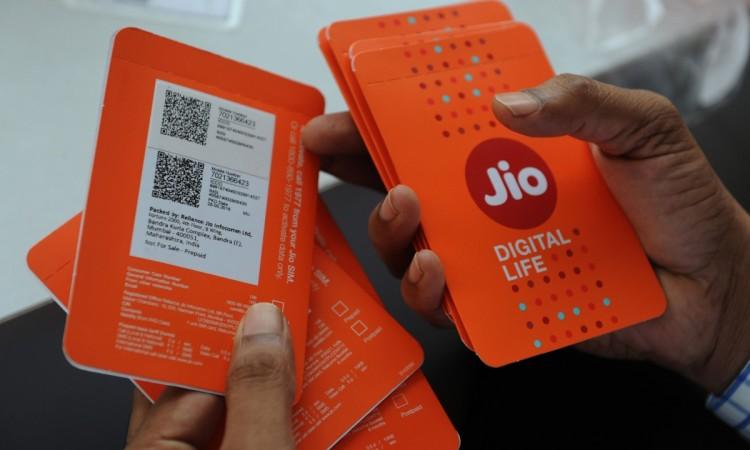 Jio's Rs. 309 and Rs. 509 plans have been the most popular ones, which flourished under the Dhan Dhana Dhan offer. Since it is time for users to revisit their prepaid plans, these Jio plans have extended validities.
Under Rs. 309 plan, Jio users get the same benefits of unlimited data with 1GB daily cap, free voice and SMS. The original validity was limited to 28 days, but Jio has revised it for 56 days. The same validity applies for the Rs. 509 plan, which gives users 2GB per day 4G data among other benefits.
If you are looking for more options, Jio won't disappoint you. Between the Rs. 309 and Rs. 509 plans, Jio has added two new tariffs costing Rs. 349 and Rs. 399. The new Rs. 349 plan offers users 20GB worth 4G data with 56 days validity. Unlike the older plans, there's no daily cap on the consumption of data. But if you exhaust 20GB, the internet speed will reduce to 128kbps.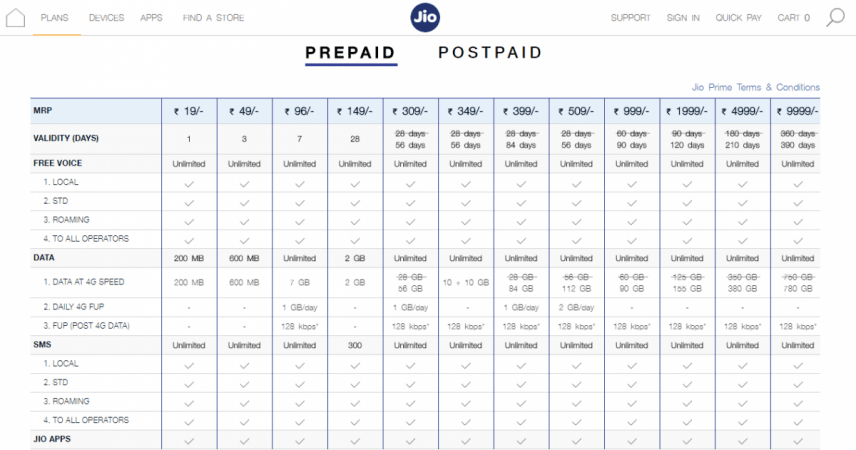 The second new plan for Rs. 399 comes with 84 days validity, where users get 1GB data per day along with free voice, STD, roaming and SMS. This new offer is same as the Rs. 309 plan with extended validity, something which fills the void for Dhan Dhana Dhan offer.
For demanding users, there are plans with higher denominations such as Rs. 999 with 90 days validity and 90GB 4G data, Rs. 1,999 with 120 days validity and 155GB 4G data, Rs. 4,999 with 210 days validity and 380GB data and finally Rs. 9,999 with validity of 390 days and 780GB 4G data.
Reliance Jio also has suitable postpaid plans starting at Rs. 309 and all the way up to Rs. 999. The validity of postpaid plans also ranges between 1-3 months depending on your choice of the plan. But Jio has a wider range of options under prepaid than in postpaid.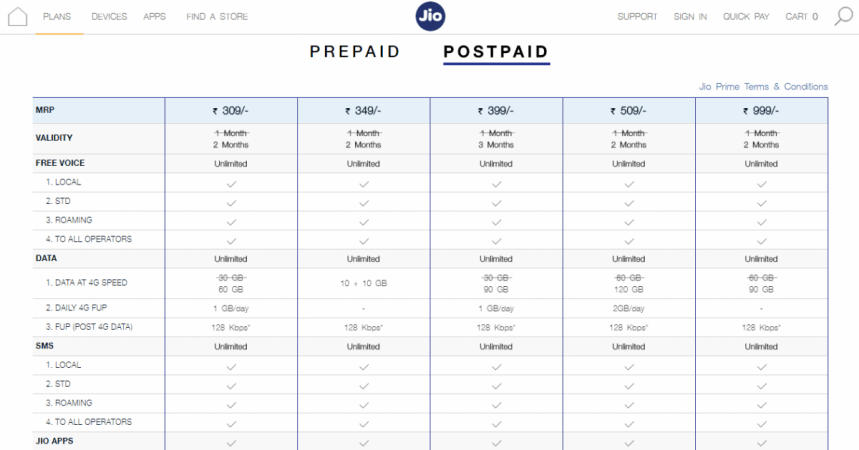 If you are unsure when your Jio offer ends, download MyJio app and check the validity.