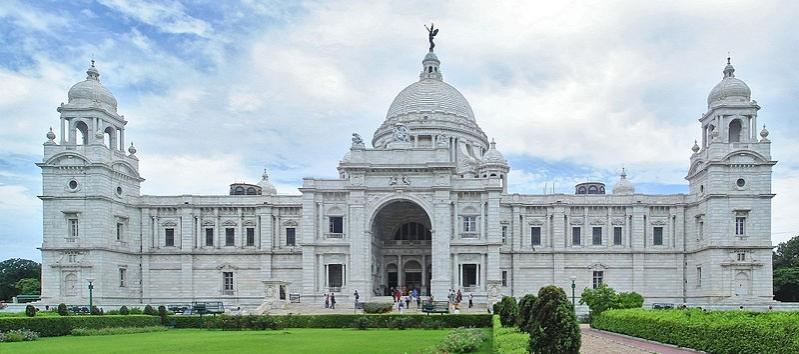 The Union Culture Ministry is carrying out large-scale restoration work of heritage buildings and places of art in Kolkata using organic and natural conservation processes, with the project likely to be completed by October, a top official said here on Friday.
"The whole idea is to look for the best as mediocracy kills the effort," said Culture Secretary Raghavendra Singh after reviewing the progress of work in Victoria Memorial Hall, the Old Currency Building, the Metcalfe Hall, the Science City and the Belvedere Building - all being revamped under the initiative.
"We are trying to complete the restoration and renovation process by October when the peak season starts. We have curated exhibitions and plan activities around it," he said.
The most visited museum of the country, Victoria Memorial Hall (VMH), is being revamped and modernized with the aim of drawing more footfall. Almost 22 lakh people visited the VMH Galleries, while 14 lakh separately enjoyed its lavish green lawn last year. "We are planning to bring various priceless Art from Delhi and other places, that is yet unseen in Kolkata. All of them will be displayed (in the VMH)," he said.
The new additions will include collections of Ramkinkar Baij, Abanindranath Tagore, Ravi Verma and also Air India. Air India has amazing art collections like paintings, sculptures, bronzes, old Air India's posters, unique ash-trays, menu cards and books for little children that will be acquired by the ministry.
The Rs 59.96 crore renovation project has been taken up by National Building Construction Corporation (NBCC) and the work is in full progress. There were plans to make the galleries air-conditioned, remove plywood constructions and reveal the grandeur of the building.
"The white marble building is getting a treatment with Fuller earth (multani mitti) with little drops of ammonia. It is kept for some days and then washed off with distilled water. Even sandstone constructions inside VMH are cleaned with non-ionic detergent," said Abhijit Bhawal, a conservation unit official.
"There is so much history in Kolkata, we are slowly taking up various other places and develop them as cultural sites," Singh added.

The Science City of Kolkata, the largest science center in the Indian subcontinent, will also have their space theatre revamped by the end of the year. Singh reviewed the progress of work being carried out there for switching from a 2D celluloid-based film projection system to a full-dome 3D Space Theatre.
"This is the first of its kind museum in entire India which will put up informative science shows. The Rs 20-crore-project will attract little children who enjoy science, astronomy, space, and environment," he said. According to him, it will be a tool of entertainment and information.
The hall with a capacity of 360 people is being designed by engineers from the US and the shows will be of much better quality than before.
The Secretary ended his visit on Friday evening by reviewing the construction of Lalit Kala Akademi's new center which will be completed by 2019 and have working studios for artists, sales counter and professional galleries. Almost Rs 17 crores have been allocated for this project.