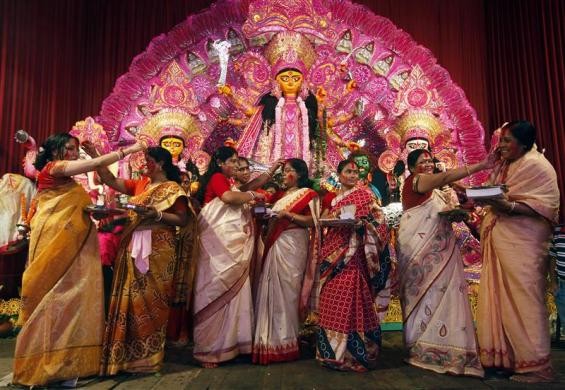 After the release of Oscar-nominated film 'Lion', starring Dev Patel, hotel bookings in Kolkata saw a 70 percent hike with more and more foreign tourists taking a shine to the city, especially the locations shown in the film.
The film has been shot in Kolkata, and has several Bengali actors including father-son duo Kaushik and Riddhi Sen. Hotels.com marketing head Amit Agrawal has been quoted by a Bengali newspaper as saying that, hotel bookings, in what is now a "Hollywood destination", have picked up post the Lion's release.
Like journalist and talk show host Vir Sanghvi once said: "Calcutta is not for everyone. You want your cities clean and green; stick to Delhi. You want your cities, rich and impersonal; go to Bombay. You want them high-tech and full of draught beer; Bangalore's your place. But if you want a city with a soul: come to Calcutta."
Here's a list of 5 amazing things tourists can do in Kolkata:
Pandal Hopping during Durga Puja:
Thousands of artists and workers burn day and night for over two months to deck up the city for Durga Puja; with around 5,000 pandal installations across the city. The streets turn into open buffets with food stalls taking up every nook and corner of the city offering exclusive local dishes. People dress their best and throng pandals to offer prayers to Ma Durga during the seven-day extravaganza. One just cannot miss the dhunuchi naach and the sindoor khela, which takes place on the last day of the festival. The city just doesn't sleep.
You should also visit Kumartuli to see the most-experienced and gifted craftsmen sculpt beautiful idols of Ma Durga headed for pandals.
Delicious Food and Variety of Sweets:
The city serves delicious street food and sweets. You just can't resist the local Bengali dishes, the kathi rolls, puchka, jhal muri and sweets like rosogolla, mishti doi and the Nolen Gur. The early morning 'cha' (tea) served in a 'bhand' (clay pot ?) and the breakfast comprising 'kachuri-sabzi' is nothing short of refreshing.
And how can you forget the famous Kolkata biryani from Arsalan or 'luchi and kosha mangsho' or for that matter the mouth watering momos. Kolkata has an entire street dedicated to Chinese food in Tiretti Bazaar, which is also known as China town, where you can get amazing momos and other Chinese dishes as early as 5 am! The city is a delight for any food lover.
History and Architecture:
Kolkata has a rich history, and architecture to go with it. North Kolkata is full of buildings constructed during the colonial era. Kolkata is the only place where you will still find trams criss-crossing the city. The city also has India's largest museum, founded in 1814. The Indian Museum is a treat for art and history lovers with its stunning display of antiques, armours, ornaments, and paintings.
The city is home to famous personalities like Rabindranath Tagore, Mother Teresa, Satyendra Nath Bose, CV Raman, Lakshmi Mittal, Subhas Chandra Bose, Amartya Sen and Swami Vivekananda among others. You can also head to Jorasanko, if you wish to see Tagore's house. The famous Victoria Memorial is also located in the city, which was once the capital of India. You can also find beautiful temples like the famous Dakhineswar Temple in Kolkata.
Winter Delight: The Annual Book Fair!
Come New Year, and book worms make a beeline for Kolkata. The city organises the largest book fair in Asia every January. The city also hosts several film and literary festivals along in lockstep with several programs at Rabindra Sadan and Nandan. But the Book Fair is the real crowd puller. You can find the rarest of books at really cheap prices at the Book Fair.
The people of Kolkata is known for their love of books. If you need more proof, head to College Street in north Kolkata. College Street is the second largest second hand book market in the world. It's said that if you can't find the book in College Street, it probably never existed!
Watch the Sunset while taking a Boat Ride along theHooghly river:
There's nothing more serene or surreal than taking a "nauka" ride along the Hooghly river while watching the sun go down in the backdrop of Vidyasagar Setu bridge. Down a bhaanrer cha (Tea) at the ghat and you are sorted for the day.
For a perfect end to your Kolkata story, watch the sunset while lazing around the Maidan, a 2000-acre green expanse at the heart of the city, or taking a stroll along Princep Ghat or Outram Ghat.
.