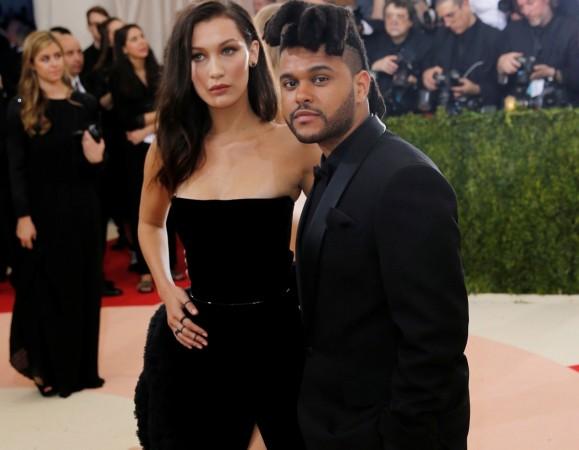 While Selena Gomez and The Weeknd enjoyed their day out at the popular music and arts festival Coachella, Bella Hadid had a fun day with her girls in Dubai. The 20-year-old supermodel decided to ditch Coachella to spend some time with pals on Sunday.
Bella had no plans of running into Selena and her ex-boyfriend The Weeknd and thus she jetted out to Dubai with her friends. On Sunday, she posted some a photo on Instagram that shows her having a fabulous time with her girls in Dubai.
Also Read: Bella Hadid skips Coachella 2017 to avoid running into Selena Gomez and The Weeknd?
She showed her toned body in a skimpy blue bikini as she sat on a boat along with her model friends. The Atlantis resort on Palm Jumeirah Island provided a stunning backdrop in the photo. "I'm so lucky," she captioned the image.
A day before posing in bikini, Bella posted a skydiving video with a caption, "Jumped out of a plane today!!! IVE NEVER FELT SO CALM IN MY LIFE!!! Flying with the angels !!!!! Thank you @skydivedubai Greg and Maha ! best sky diving experience of my life!!!! F yaaaa!!!! DUBAIIIII!! In my @nike CORTEZZZ."
Meanwhile, Gigi Hadid's sister Bella is in Dubai as she is annoyed with all the Selena-The Weeknd romance update. "Bella is annoyed and tired of being overwhelmed with Selena and Weeknd's news, so she asked her friends to stop sending her stuff," a source told HollywoodLife.com.
"She doesn't want to hear about them anymore. All the social media updates of her ex and his new girlfriend is slowing Bella from moving on so she is taking action. Bella has muted Selena and The Weeknd mentions on her Twitter feed and is doing her best to avoid them on all her social platforms too. Bella is so over her ex and just wants to be happy and healthy," the source said.
Bella and The Weeknd broke up last year and a few weeks after that he was spotted with Selena.