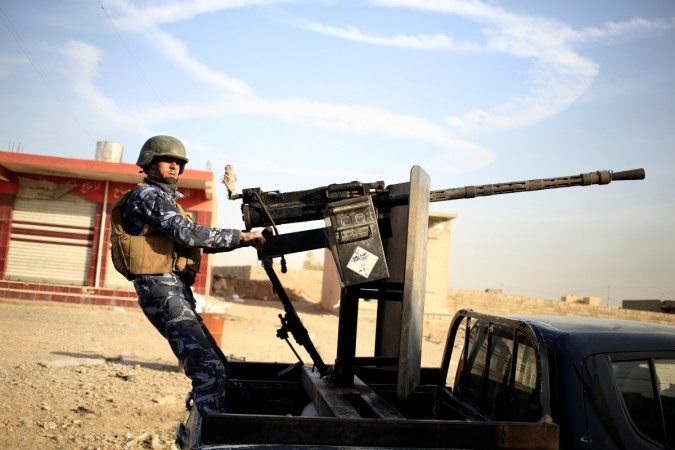 With the Iraqi joint forces, aided by the coalition forces led by the United States, making further inroads into Mosul, the Islamic State group — also known as Islamic State of Iraq and Syria (Isis) or Islamic State of Iraq and the Levant (Isil) — is looking not only to retreat but also ensure that the retreat is unimpeded.
The jihadist group, meanwhile, continues its reign of terror in Mosul. In the week gone by, it has emerged that not only did Isis execute 40 people in Mosul and crucify their bodies in public places, but also made youngsters execute their prisoners. In an earlier instance, an Isis fighter in Mosul, on learning that his brother had died, simply entered a house and massacred the family living there.
Now, however, the Isis is really on the back foot, with reports coming in that its fighters are evacuating their families from Mosul. A report in Iraqi News quoted a source in the Nineveh province as saying that Isis "has suddenly given a green light to the evacuation of the families of its local fighters immediately from all neighbourhoods in western Mosul to the east."
The move comes after Iraq's Anti-Terrorism Directorate announced on national television on Saturday: "Forces from the Anti-Terrorism Directorate stormed into al-Qadisiyah neighbourhood, in eastern Mosul. The security forces are working currently to cleanse and secure the neighbourhood after liberating it from the Islamic State's control."
The Iraqi News went on to say about the move: "The move denotes a severe collapse in the group's defences at the western front, according to the source." It also quoted the source as saying that such evacuations were "previously limited to the families of foreign fighters, the largest portion of whom moved to Baaj in Nineveh and Raqqa in Syria."
Another Iraqi News report on Saturday quoted Alsumaria News as saying that Isis had "imposed a curfew in the city of Mosul, after the killing of a number of its senior leaders by a coalition air strike, in the eastern coast of the city." It added: "The Isis terrorist gangs also prevented the families from leaving their houses, and deployed its militants in the streets of the city."