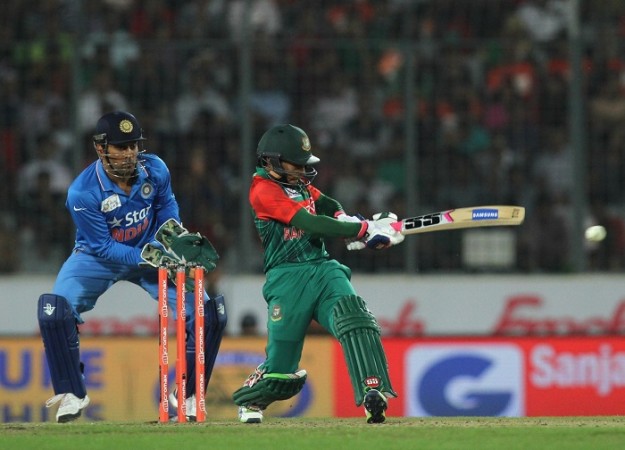 Mushfiqur Rahim has always been a little impulsive, unable to control the emotions on the cricket field, with the perfect example being when he did a little celebrator jig after hitting consecutive fours off the final Hardik Pandya over in the India vs Bangladesh World T20 Group 2 match. The Bangladesh wicketkeeper would have regretted that little celebration in hindsight after Bangladesh, spectacularly lost three wickets in three balls to hand India a one-run victory.
Probably, still smarting from that defeat, which knocked Bangladesh out and kept India in the running for the semifinals, Mushfiqur acted, well, let's just say, unlike a professional, by tweeting his glee at India's exit in the semifinals to the West Indies.
"Happiness is this...!!! ha ha ha..!! India lost in the semi-final...," he wrote on his Twitter account, followed by three smileys and a picture of MS Dhoni talking in the post-match interview.
The tweet was expectedly deleted a little while later after backlash from the India fans, who would have been finding it difficult, anyways, to cope with the defeat to WI, without having to handle a Bangladesh international cricketer – a former captain at that -- rub their faces in it.
Following the backlash from Indian and several other fans as well, Mushfiqur backtracked with this tweet. "Sorry to all of you guys...as I am a big West Indies supporter but anyway sorry again for some harsh words...!!!!"
Now, it would have been believable that he is a West Indies supporter and celebrating a fabulous win for Darren Sammy and co. had his tweet been along "Well done West Indies, what a chase, what a win!" lines.
But, that was not the case was it.