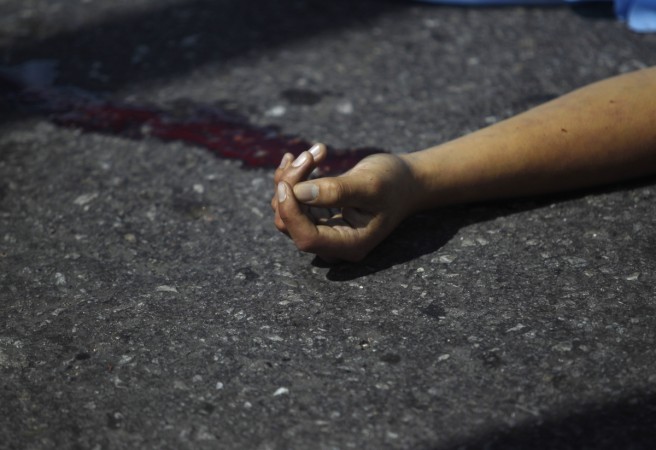 UPDATE: 14:56 p.m. IST — Two "high-ranking" militants of the Jamaat-ul-Mujahideen Bangladesh (JMB) were killed in an encounter with the Bangladesh Police in Dhaka on Tuesday, Agence France-Presse reported. One other militant was killed in a gunfight in northwestern district of Rajshahi.
The Bangladesh Police Hours launched a nationwide crackdown on extremist groups after a Hindu priest was murdered by unidentified assailants in Jhenaidah district on Tuesday. The two JMB militants were involved "in most of the recent attacks," including the murder of a professor, deputy commissioner of police MR Khaled told AFP.
On Tuesday, a 65-year-old Hindu priest was killed by three motorcycle-borne men while he was on his way (on a bicycle) to a temple in Noldanga village's Sadar upazila, according to the Press Trust of India. According to PTI, the attackers shot at him before slitting his throat.
Original Story —
An old Hindu priest was murdered by unidentified persons in southwestern Bangladesh's Jhenaidah district on Tuesday, Agence France-Presse reported. He was attacked by three men at 9:30 a.m., the Press Trust of India reported.
The deceased has been identified as 70-year-old Ananda Gopal Ganguly. His body, with severed head, was found in a rice field close to his home in Noldanga village, deputy police chief of the area Gopinath Kanjilal told AFP.
"He left home this morning saying that he was going to a Hindu house to offer prayers. Later farmers found his near-decapitated body at a rice field," Kanjilal said. He was not certain which group could be behind the attack, but said that the "pattern of the killing is similar to ones carried out by local Islamist militants in recent time."
The attack on Ganguly is the latest among several such attacks, primarily carried out by the Islamist extremist outfits such as the Islamic State group. Ganguly was reportedly the 11th person to be murdered in the last 10 weeks.
A 65-year-old Christian was hacked to death at his grocery shop near a church in Bangladesh's Bonpara village on Sunday. The attack was claimed by ISIS, which also claimed an attack on a doctor in Kushtia district last month. The man was hacked to death by unidentified assailants on May 20, Reuters reported.
ISIS had also claimed responsibility for the murder of Xulhaz Mannan, Bangladesh's gay rights activist who was also the editor of the country's first LGBT magazine, and professor AFM Rezaul Karim Siddiquee of Rajshahi University.
Although ISIS claimed the attack on Siddiquee, the Bangladeshi police arrested a militant of the banned Islamist group Jamaat-ul-Mujahideen Bangladesh during investigation into the murder.