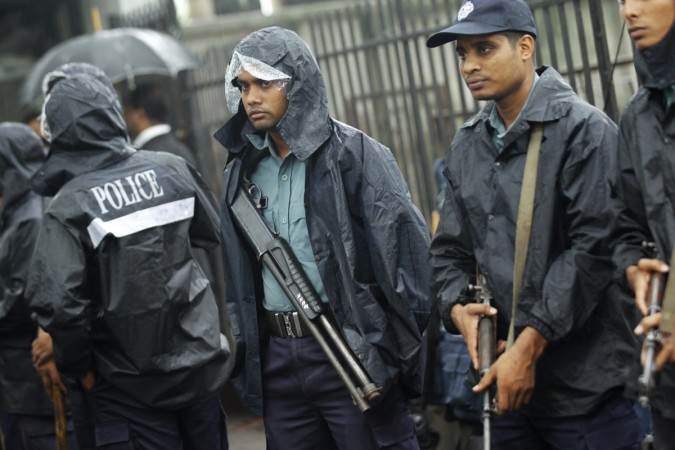 Armed gunmen are said to have killed at least five people -- including an Italian couple and two policemen -- and taken at least 20 foreigners hostage in an eatery in the Gulshan area of Dhaka, the capital of Bangladesh. The situation follows reports of firing on Friday night, and 24 policemen are said to have been injured in the stand-off.
The Islamic State group, also known as the Islamic State of Iraq and Syria (Isis) or the Islamic State of Iraq and the Levant (Isil), has claimed responsibility for the attack, through pro-Isis news agency al-Amaq.
ANI quoted Bangladesh media as reporting that the armed gunmen were eight in number. The Gulshan area houses several diplomatic missions. The eatery the gunmen attacked is said to be the Holey Artisan Bakery.
The Dhaka Tribune (DT) quoted Assistant Commissioner of Gulshan Division Police Rafiqul Islam as saying that three people, including two policemen, had been shot dead in an apparent terrorist attack, and three others -- two of whom were police constables while the third was a civilian, had been sent to hospital after they were injured.
The report later confirmed that Detective Branch of Police assistant commissioner Rabiul Islam and Banani police station officer-in-charge Salahuddin Ahmed have been killed in the attack.
A bakery employee who escaped the attack was quoted by the DT report as saying that he saw two of the attackers, and that they shouted "Allahu Akbar." He also said two employees of the bakery where he works were foreigners, and that while the Italian had escaped, the Argentine was probably a hostage.
The report later quoted American Standard School principal Lori Ann Walsh Imdad as writing on her Facebook page: "Terrorists broke in and shot the Italian baker and his wife and took about 20 foreigners hostage."
As the situation progressed, Bangladesh's Rapid Action Battalion's Director General Benzir Ahmed was quoted by the Daily Star as telling television channels not to cover the situation live, citing security reasons.
Meanwhile, the U.S. Embassy in Dhaka has tweeted an advisory, asking its citizens in the country to take shelter and monitor the news.
Parallels with 26/11 Mumbai attacks
Observers are already drawing parallels between this attack and the Nov. 26, 2008, attacks in Mumbai. Foreigners were targeted in both cases, and the gunmen took hostages, leading to a stand-off.
Also, top law-enforcement personnel were killed in both attacks.