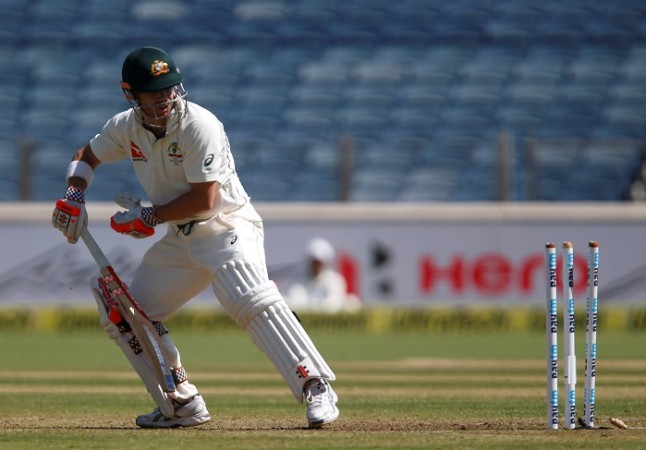 Twelve years ago, they had done it in a one-day international for the first time. The hero on that occasion was Mohammad Ashraful who hit a match-winning ton. This time, it was Shakib al Hasan who spun a cobweb around the Australians after producing a brilliant batting display and earned his country their first-ever win against the top opponents.
In a closely contested game played at the Sher-e-Bangla National Stadium in Mirpur, Dhaka, Hasan took five wickets in each innings to sink the Aussies just 20 runs short of their target of 265. David Warner's gallant 112 went in vain as none of his colleagues could give him enough support to defy the hosts their most famous victory in Tests so far. Australia became the fifth team to have been beaten by the Bangladeshis in Tests so far (the other four being Zimbabwe, Sri Lanka, England and the West Indies).
Australia lose the seesaw game
Bangladesh had won the toss and elected to bat but were restricted by the Australian spinners to 260. Shakib al Hasan was the top scorer with 84, followed by opener Tamim Iqbal (71). The visitors then faced a batting failure and it was only some gritty show by the tail-enders that they managed to reach 217, conceding Bangladesh a lead of 43 runs. Hasan was the pick of the bowlers with five wickets for 68. Bangladesh were pulled back by Australia in their second innings as veteran Nathan Lyon took six wickets for 82, restricting them to 221.
Lyon finished with nine wickets in the game. Iqbal (78) was the only batsman to cross the half-century mark in the host team's second essay. The Australians needed 265 runs to win the game and were cruising at one point with the scoreline reading 158 for 1! But once Warner fell leg before to Shakib, it was an unbelievable turnaround for the Bangladeshis. They were soon reduced to 199 for 8, losing seven wickets for just 41. Pat Cummins's 33 not out took them closer to the target but couldn't overhaul it.
Bangladesh now have a 1-0 lead in the two match series and will strive for a historic series win in the second game to be played at Chittagong between September 4-8. The win also means Bangladesh will remain unbeaten in yet another home series. The last time Bangladesh had lost a home series was in 2015 and the opponents were Pakistan. They have drawn India, South Africa and England since then.
Bangladesh becomes 8th team to beat Australia in Tests
With this win, Bangladesh also became the eighth team to defeat Australia in Tests. Their first victory in a Test against Australia came in the third series they played against the team ranked fourth in ICC Test rankings at the moment.
Here is a list of other opponents' victory over Australia in Tests:
England beat Australia for the first time in Tests in 1876-77, in their first-ever series
South Africa beat Australia for the first time in Tests in 1910-11, in their second series
West Indies beat Australia for the first time in Tests in 1930-31, in their first series
Pakistan beat Australia for the first time in Tests in 1956-57, in their first series
India beat Australia for the first time in Tests in 1959-60, in their third series
New Zealand beat Australia for the first time in Tests in 1973-74, in their third series
Sri Lanka beat Australia for the first time in Tests in 1999, in their sixth series
Zimbabwe have never beaten Australia in Tests
Of these teams, England, South Africa and the West Indies had beaten Australia for the first time in away games.
Scores in brief:
Bangladesh 260 & 221; Australia 217 & 244