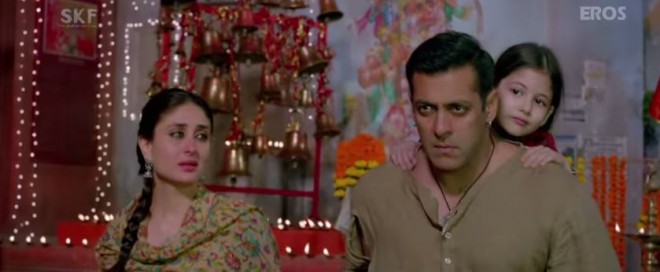 As expected, Salman Khan and Kareena Kapoor starrer "Bajrangi Bhaijaan" has opened to rave reviews from film critics.
The film, directed by Kabir Khan tells the story of a mute little Pakistani girl who is lost in India and an Indian Pavan helps her to meet her parents.
But the Eid release is not just any Salman's masala movie, critics and celebrities have said that is one of his best films released untill now. The film is packed with romance, laughter, action and of course drama.
The film was involved in several controversies, mainly due to the title "Bajrangi Bhaijaan", but the positive buzz and reviews managed to overshadow it. Child artist Harshaali Malhotra, who plays the role of the mute Pakistani girl, has won critics' heart with her performance.
Starring Salman and Kareena, the film also features Harshaali and Nawazuddin Siddiqui in pivotal roles.
Here is a roundup of what critics have said about Salman's "Bajrangi Bhaijaan":
Harshaali has performed her best as mute girl and shares a great chemistry with Salman, Bindu Rai of Emirates 24/7 said in her review.
"All pitfalls pale when you have a Salman Khan-starrer out on Eid. Ultimately, all we can say is leave questions behind and cut a ticket for 'Bajrangi Bhaijaan' this festival; you will not be disappointed," she wrote in her review.
Manjari Saxena of Gulf News said that the film is about love, love and only love.
"Playing a mute girl, Malhotra emotes through her "truck headlight" eyes. Both Khan and Kapoor have been raving about her, even though she herself has been kept away from the media and is not part of the film's promotions," Manjari praising Harshaali said.
Lokesh Dharmani of Masala.com said: "Bajrangi Bhaijaan is not a bad film. It's not regressive like Dabangg, preachy like Jai Ho or irritating like Kick. It's a cute film that talks about Indo-Pak issue.
"Most of all Bajrangi Bhaijaan makes you feel proud, proud of the fact that we come from a secular country like India where a Muslim director takes the biggest Muslim superstar, christens him Bajrangi and makes him chant Jai Shri Raam a million times in a film that releases on EID! "
Rohit Vats of Hindustan Times said: "Bajrangi Bhaijaan is totally dependent on Salman Khan's superstardom and he pulls it off provided you overlook his in-your-face 'bhai' act in some scenes. It's an entertaining film for sure, definitely in the not-to-be-missed category."
Tushar Joshi of BollywoodLife.com said: "Surrender yourself to Bajrangi Bhaijaan and let him win you over with his child-like charm. A must watch for those who complained that Salman doesn't try anything different, Bajrangi Bhaijaan is the ticket to buy this weekend!"
Bollywood Hungama in its review said: "BAJRANGI BHAIJAAN is a not to be missed 'Eid' treat from Salman Khan and Kabir Khan. The film is a surefire hit and has got 'B-L-O-C-K-B-U-S-T-E-R' written all over it."
Gayatri Gauri of Firstpost said: "Bhai is so good as Hanuman bhakt, could be the next hottest, secular BJP candidate."
Shubhra Gupta of The Indian Express said: "This film presses many red-hot buttons, even if the treatment is strictly in-the-clouds 'filmi'. And gives us Shirtless Salman as a dove of peace, speaking for all religions and 'mulqs'."
Saibal Chatterjee of NDTV said: "Salman Khan may the principal driving force of Bajrangi Bhaijaan, but the real star of the film is the super-cute child actor Harshaali Malhotra."
Srijana Mitra Das of The Times of India said: "Bajrangi Bhaijaan emphasizes how, amidst visas and wars, there are also angels about who don't see doors."
The little angel Delhi girl Harshali Malhotra found by @CastingChhabra for #BajrangiBhaijaan n I give 10* out of 5* to Chhabra for this.

— Kamaal R Khan-KRK (@kamaalrkhan) July 16, 2015
After watching #BajrangiBhaijaan I can say only this tat if you have not watched this film then you have not watched best film of your life.

— Kamaal R Khan-KRK (@kamaalrkhan) July 16, 2015
Thank you @BeingSalmanKhan n @kabirkhankk for making #BajrangiBhaijaan Bas Abki Baar 300 Ke Paar.

— Kamaal R Khan-KRK (@kamaalrkhan) July 16, 2015
Director Kabir Khan merges humour, emotions and patriotism and creates a full-on entertainer. #BajrangiBhaijaan is a SURE-SHOT W-I-N-N-E-R.

— taran adarsh (@taran_adarsh) July 16, 2015
#BajrangiBhaijaan is Salman Khan's BEST movie to date. Also, it is, without doubt, his CAREER-BEST performance. Wins you over completely.

— taran adarsh (@taran_adarsh) July 16, 2015
Nawazuddin is, as always, marvellous. But I'd like to single out Harshali Malhotra, who performs brilliantly. Adorable! #BajrangiBhaijaan

— taran adarsh (@taran_adarsh) July 16, 2015