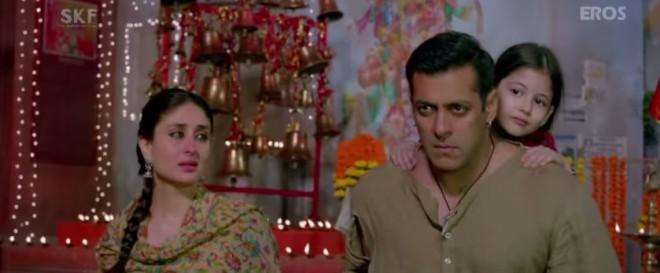 The excitement over the Eid release "Bajrangi Bhaijaan" starring Salman Khan and Kareena Kapoor Khan can be seen from its opening day and weekend advance booking status in India.
The advance of "Bajrangi Bhaijaan", which opened partially on Sunday, has now opened in all the theaters in India. And within less than 24 hours, the film has received phenomenal response at both, single screens and multiplexes.
Not only opening day, but the opening weekend tickets of "Bajrangi Bhaijaan" are also sold out in several theaters. The advance booking status has witnessed 70 percent occupancy, with most of the first day shows is being sold out.
Distributors and exhibitor are positive that "Bajrangi Bhaijaan" will do phenomenal business in India. Distributors also say that "Bajrangi Bhaijaan" first week tickets will be sold out, if the buzz remains the same.
"Everyone is eagerly awaiting the release of Bajrangi Bhaijaan. Since Salman Khan and Kabir Khan have teamed up, expectations are higher than usual. I have never witnessed such a frenzy for advance booking. All-India, advance booking is 75 per cent at both multiplexes and single-screens, and in Mumbai, it is 80-per cent and growing. It is safe to say that this film will create enormous box-office records. The weekend shows are almost already booked," exhibitor Rajesh Thandani told Box Office India.
"The film has seen 70-per cent advance booking and the number is rising as we speak. Bajrangi Bhaijaan is expected to be one of the biggest grossers of all time. I have never seen advance booking like this before. For Friday, seats for all five shows in every multiplex are filling up fast. The film is set to release in 4,000 screens all-India and 300-350 screens in Delhi-UP," Sanjay Ghai of Mukta Arts told the trade website.
"Bajrangi Bhaijaan" is directed by Kabir Khan and also features child Harshaali Malhotra, who plays the role of a mute Pakistani girl, and Nawazzudin Siddiqui, who plays the role of a reporter.
The film will hit screens worldwide in more than 5000 screens on 17 July. In India, the film will be released in approximately 4500 screens, while in overseas, it will be released in around 700 screens.