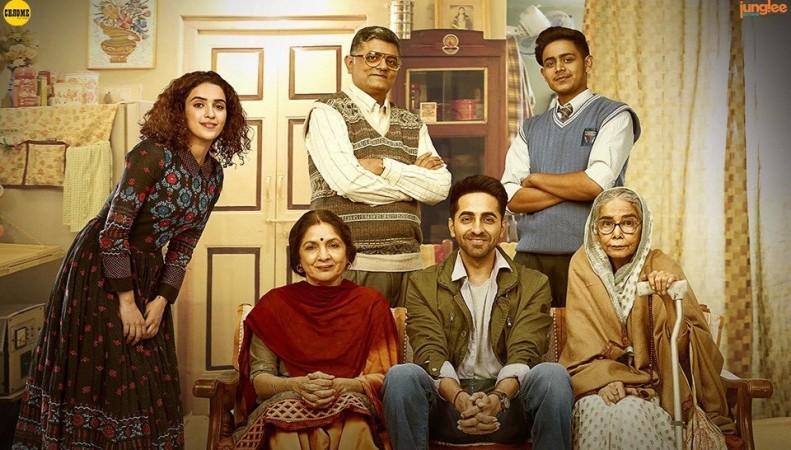 Ayushmann Khurrana and Sanya Malhotra starrer Badhai Ho (Badhaai Ho) is going to hit the theatres on October 18 and audience have already been sharing their excitement on social media.
Those who watched the Amit Sharma directorial at a special screening, have lauded the quirky storyline and brilliant performances of the actors.
Badhai Ho is a small-town story of a couple welcoming a baby at an old age has managed to impress the audience with its trailer. Going by Ayushmann's track record of delivering hits like Bareilly Ki Barfi, Shubh Mangal Saavdhan and AndhaDhun over the past two years, the movie is expected to earn around Rs 7-8 crore on its opening day. If the movie manages to keep the momentum going, it is expected to rake in around Rs 30 crore in its extended four-day opening weekend at the domestic box office.
The audience were blown away by the funny moments in the film which according to them have been riddled with dramatic and serious sequences. They also praised Ayushmann and Sanya for their portrayals among other supporting casts. Many found Badhai Ho as an entertainingly different film with a fresh take comprising of ingredients of fun, family affairs and emotional drama.
While the critics have also lauded the efforts of the director, star cast and others aspects of the film, check out what audience has to say about Badhai Ho ahead of its release.
Amazing movie! Loved it #BadhaaiHo A complete package of entertainment and emotion!! Great acting guys! Complete cast was awesome! @ayushmannk @sanyamalhotra07 @BadhaaiHoFilm

— Tejas Rangnekar (@tejasrangnekar) October 18, 2018
Didn't think @ayushmannk could top #Andhadhun. At least not this year. But I stand corrected. Go watch #BadhaaiHo to laugh till tears stream down your cheeks. Badhaai to the Badhaai Ho team. — Rajiv Lakshman (@RajivLakshman) October 18, 2018
The buzz for #BadhaaiHo is solid, the trailer has been loved tremendously, the reviews are good, @ayushmannk is on a roll, the festive release is a plus, & there are no big Hindi releases for the next 3 weeks.!!This one has the potential to cross 100 crs lifetime nett domestic BO

— Nikhil Ram (@Nikhil_Rams) October 18, 2018
#BadhaaiHo ... Superb movie... Ayushmann bhai rocked his role...@ayushmannk you are zing zing amazing — Sathyadev (@Sathyadevglsr) October 18, 2018
#BadhaaiHo is a full proof family entertainer that brings a smile on your face. It has ample of humour in the form of quirky one-liners, but honestly, it is the emotional quotient that is the USP of this film. Go For It. SUPER HIT! @ayushmannk @sanyamalhotra07

3.5 Stars!

— Himesh (@himeshmankad) October 18, 2018
Hearing a lot of good reviews about #BadhaaiHo too. I am so happy for @ayushmannk . October is Ayushmann's month. :)

— Naman Gupta (@_namangupta) October 17, 2018
#BadhaaiHo is BEST FAMILY ENTERTAINER of the year! You can't afford to miss it. It'll make you laugh NON-STOP and then will make you CRY and then again LAUGH. @iAmitRSharma has captured aspects of every releationship amazingly. In love with @raogajraj & #NeenaGupta (1/2) — Raghuvendra Singh (@raghuvendras) October 17, 2018
Quirk works again! #BadhaaiHo @ayushmannk. Another entertainingly different film.
Fresh, fun, family fare & pretty senti too. @JungleePictures scores with its pick of substantial subjects

— Bharathi S Pradhan (@editorbharathi) October 17, 2018
#BadhaaiHo – Celebration of Life Indeed!!! Director Amit Sharma continues to amuse you right from the trailer to the wholesome entertainer the film is. Badhaai Ho is indeed the celebration of... https://t.co/pj7SUCurue — Prakash Khetpal (@pkverdicts) October 17, 2018
#BadhaaiHo has funny moments and also is riddled with dramatic and serious sequences. But they are very touching, moving and relatable https://t.co/5N9eSvtRY2

— Fenil Seta (@fenil_seta) October 17, 2018
if d trailer was so hilarious, wonder how amazing the movie is gonna b! Can't wait to watch #BadhaaiHo!! Good luck to @ayushmannk (u r one of my fav), @Neenagupta001 & d entire team of #BadhaaiHo! — Payal Budhrani (@PayalBudh) October 17, 2018
Another 4 stars movie delivered by @ayushmannk #BadhaaiHo

Can't wait to see now

— (@Witty_Enuff) October 17, 2018
@ayushmannk is bigger start than @arjunk26 . #badhaaiho will be Superhit where as #NE will be flopped for sure... — Sanjeev Mishra (@sanjeevkmishra) October 17, 2018