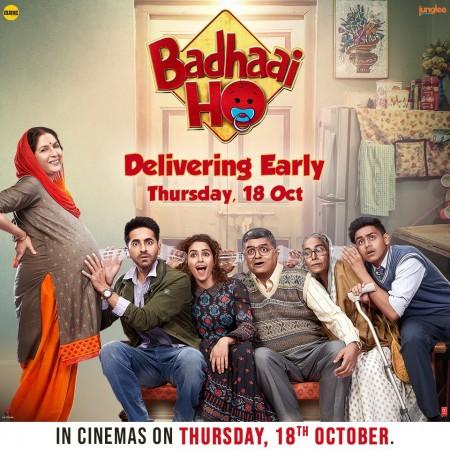 Ayushmann Khurrana starrer Badhai Ho (Badhaai Ho) has been getting rave reviews from the critics. The comedy drama is being appreciated for its humour and engaging performances.
Directed by Amit Sharma, Badhai Ho features Ayushmann, Sanya Malhotra, Gajrao Rao, Neena Gupta among others.
The movie is based on an unorthodox subject, and involves a very candid treatment. It shows Gajraj and Neena as Ayushmann's onscreen parents. Things get extremely awkward for him and his father when his mother gets pregnant at an age when the elderly couple is ideally expected to turn grandparents.
The trailer of Badhai Ho had received positive response, and the film has also stood up to the expectations. Some of the critics have already watched the movie, and are all out with praising words.
According to the critics, intelligent humour, unique storyline, entertaining performances and good direction make Badhai Ho a must watch.
Read the critics review and rating of Badhai Ho:
Times of India: Badhaai Ho, much like its subject, puts a fantastic new spin on the usual. In a new-age rom-com, you'd expect Ayushmann and Sanya's love story to take centre stage, but when you see the middle-aged parents blush with romance, the entertainment really becomes novel. The music by Tanishk Bagchi, Rochak Kohli and JAM8 is top-grade, too. Tracks like 'Badhaiyaan Tenu', 'Naina Na Jodeen' and 'Sajan Bade Senti' fit the mood perfectly. The film engages thoroughly, while still making a social statement. Even though the story has a limited scope, the detailed writing, the finesse of Sharma's direction and some unforgettable performances, make this film an absolute winner. (4/5)
NDTV: This is a family drama with a difference whose appeal stems from the confident and steady manner in which it unfolds. Badhaai Ho is relatable despite the fact that it deals with a situation that isn't all that common, in real life or in cinema. Sharma knows his craft and demonstrates an acute sense of proportion, especially when he is dealing with the dramatic moments that spur the tale forward. Badhaai Ho is certainly worth a visit to the multiplex. (3.5/5)
News18: Badhaai Ho is a smart and well thought-out movie which slightly suffers from unrequired melodrama in the second half, but overall it's as entertaining as you wanted it to be. Not a film to miss. (3.5/5)
Koimoi: All said and done, Badhaai Ho is a clean family entertainer which also is a tight slap at the mentality of certain people which unfortunately still exists. This breaks a taboo by making sure you laugh throughout. Watch this watching how much you laugh while watching the film. (3.5/5)
Bollywood Hungama: On the whole, BADHAAI HO is not a laugh riot but emerges as a complete family entertainer with emotions as its USP. The film leaves you with a smile and at the box office, it is at an advantage. It releases during an extended weekend and families are bound to come in large numbers. It's surely a 'Badhaai Ho' time for the makers and investors! (3.5/5)
Republic: Badhaai Ho is a typical family-drama film that leaves you nostalgic and makes you want to call your family and tell them that you love them. Backed by a brilliant script, this Amit Sharma venture is sure to cast its spell on the masses that makes for a perfect family film this Dussehra. (4/5)
Pinkvilla: Badhaai Ho manages to ruffle many emotions in us while keeping it engaging and progressive. It is definitely a circus, ticket to which you don't want to miss out on. (3.5/5)
Stay tuned for more reviews.