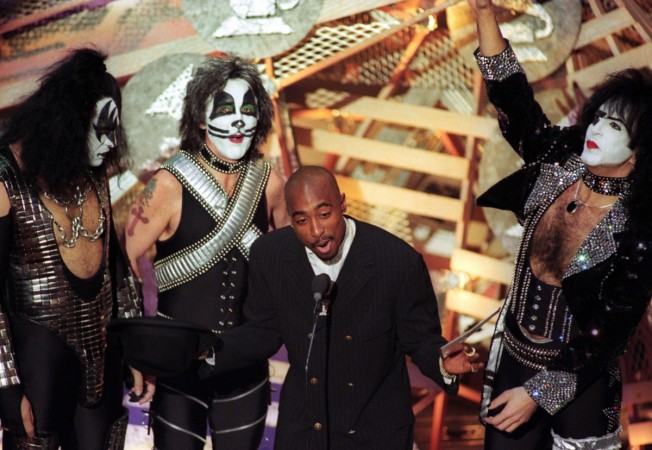 Ayanna Jackson, the woman who sent rapper Tupac Shakur (2Pac) to prison in 1993, has spoken out about the sexual assault for the first time. In an interview with DJ Vlad, Jackson opened up about the night she was raped by Tupac and was forced into group sex.
Also Read: Was Tupac Shakur raped in prison? Shocking details about 2Pac's assault surface
Jackson, 44, was still a teenager when she first met Tupac at Nell's Nightclub in New York. "I was at a party... I was having some champagne, and he walked up behind me. I had some jeans on that night and he placed his hands into the back pockets of my jeans and I turned around. He said he is Tupac," she told Vlad TV.
After they met, Jackson and Tupac went dancing in the VIP area of the club and even kissed each other. She said the rapper even forced her to perform oral sex on him while they were kissing. That night, they went to the hotel and had consensual sex, Jackson said.
In the following days, she kept meeting Tupac and the meetings were arranged by his manager Charles Fuller. Charles would even send cars to pick her up.
On November 18, 1993, Jackson visited Tupac at the Parker Meridien Hotel in New York after she received a call from Charles. Tupac and his friends were hanging out in the hotel room and drinking, watching TV. According to Jackson, she and Tupac went into the bedroom where she gave him a massage and later they started kissing.
But things changed when his friends entered the room all of a sudden. "I'm looking at him face to face, and I hear people talking and I hear people saying 'oh look at her' and 'her ass is fat,'" she said in the interview. "I'm looking at him dead in his eye, and I'm like 'what's going on?' And he's saying to me he's like 'relax baby, these are my boys. I like you so much I decided to share you with them.'"
She said that she tried to lift her head but 2Pac continued to pull her head down.
Also Read: Tupac Shakur shot himself during failed assassination attempt, claims DJ Funkmaster Flex [VIDEO]
"Because he has his hand in my braids, I can't physically move around," she said. When he said he decided to share her with his friends, she replied: "No, no, no... this is not what I want."
She said: "I hear my dress is being ripped but I am actually physically still on top of him (2Pac). He is still there on bed. He is still holding me and his hands wrapped around my braids. And I remember my stocking being ripped off, my dress being ripped off. I remember all these happening and Tupac is still there."
She said Tupac then raped her and left. Later, other men in the room raped her.
Jackson made headlines when she said Tupac and his friends raped her. The rapper was convicted of first-degree sexual abuse and was sentenced up to four and half years in prison.