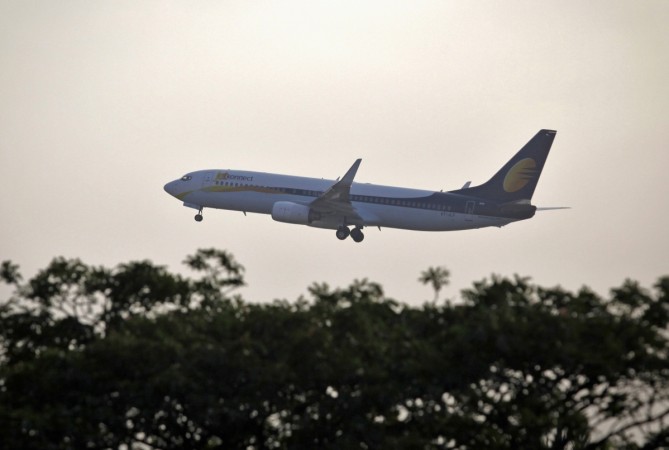 Stock prices of aviation companies plunged on Thursday as concerns over their profits rose after a rebound in global crude oil prices.
Shares of SpiceJet, India's second-biggest budget airline by market share, fell sharply by 8.3 percent to close at Rs 76 on the Bombay Stock Exchange (BSE), while the Jet Airways shares ended 5.6 percent lower at Rs 529.
Stock prices of Interglobe Aviation, the owner of Indigo, also fell 4.4 percent to end the session at Rs 803.
A sell-off was witnessed in the aviation stocks despite the benchmark indices ending on a positive note. While the BSE Sensex gained 115 points to close at 24,338 points, the 50-share Nifty rose 42 points to close at 7,404.
Crude oil prices rebounded sharply on Wednesday with the benchmark Brent crude surging by 7 percent to trade above $30 a barrel. The rebound in prices has raised worries over profits of domestic aviation firms as fuel costs account for 40%-50% of their operating costs.
"It is virtually impossible just now to predict how oil prices will perform in the near future," said Commerzbank Corporates & Markets in a note.
Late last month, shares of Jet Airways and SpiceJet touched multi-month highs, supported by a continued fall in crude oil prices. Overall fuel prices have declined by 24% in the past one year, giving significant cost savings for the domestic carriers.
SpiceJet reported a net profit of Rs 238.40 crore for the quarter ended 31 December, 2015, as against a loss of Rs 275 crore registered in the corresponding quarter last fiscal. A 35% decline in fuel costs due to low jet fuel prices enabled the company to stage a turnaround. Its shares went up a whopping over 300% in the last one year alone.