Avengers: Infinity War reviews are out and the movie is considered as a mind-blowing experience for Marvel fans. However, the good reviews did not push the Marvel movie to surpass Gal Gadot's Wonder Woman and Marvel's own Thor: Ragnarok, leave alone Black Panther's Rotten Tomatoes ratings.
The Gal Gadot starrer released in June last year and holds a spectacular 92 per cent on the site. The film was certified fresh and the good reviews influenced movie goers to buy a ticket. Chris Hemsworth's Thor 3 was also deemed as fresh and is at par with Wonder Woman.
However, Infinity War is currently standing at an 86 per cent. The score is not all that bad but given the response from the critics, the rating looked like it would touch the 90 per cent score. While most critics enjoyed what they saw, a few pointed out that it was a lot of movie.
"Avengers Infinity War is a lot," tweeted Gregory Ellwood from The Playlist. Village Voice's Bilge Ebiri felt it was exhausting. "Infinity War is exhausting. *Exhausting.* It all just turned into noise for me after a while."
Slate's Sam Adams writes, "Sitting through its 2 hours and 30 minutes is like gorging on tapas: You wind up both overstuffed and unsatisfied." A O Scott from New York Times reviews, "The noisy, bloated spectacles of combat were surely the most expensive parts of the movie, but the money seems less like an imaginative tool than a substitute for genuine imagination."
TIME Magazine's Stephanie Zacharek shares, "There's no pacing in Avengers: Infinity War. It's all sensation and no pulse. Everything is big, all of the time."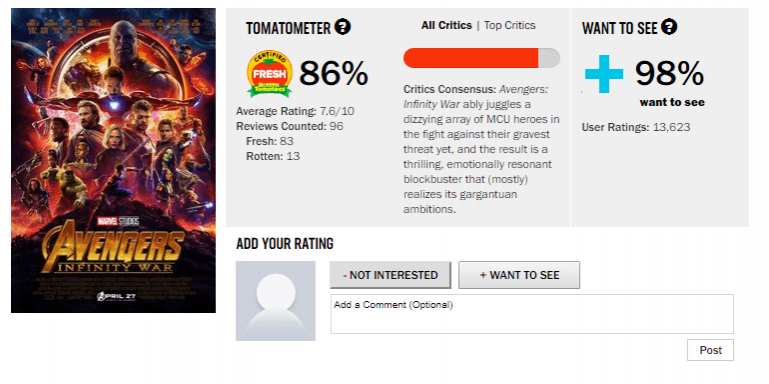 While these rotten reviews have pulled down Infinity War, it is unlikely to impact the Avengers: Infinity War's box office collection or the Marvel fans. After all, it took ten years for Marvel to culminate what they began with Iron Man and fans are bound to watch it regardless of the reviews.
The film is already pacing at an opening of $248 million in the US with several film analysts also suggesting it could beat Star Wars: The Force Awakens opening weekend box office records.
Avengers: Infinity War releases on April 27.