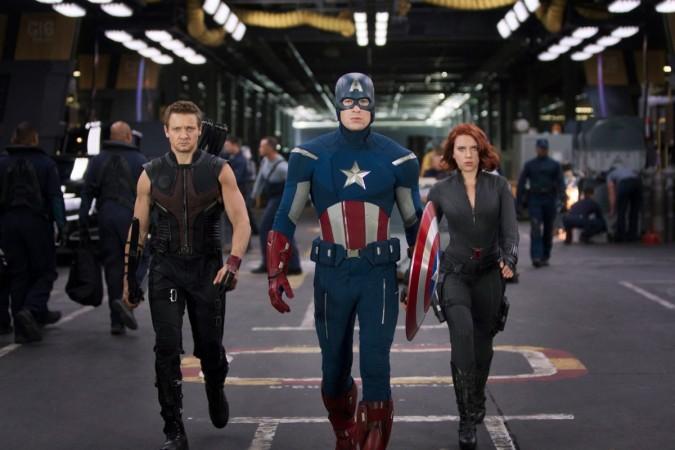 Avengers' fans may have just got their first view of how the new team could look post the Infinity War in Avengers 4. After a slew of set photos revealed was leaked online, a new artwork has hit the internet and it has paved way for several plot speculation.
The picture was shared on a photo sharing website by Hero X and shows the surviving superheroes headed for a new battle. The picture features Thor, Nebula, Captain Marvel, Iron Man, Rocket, Black Widow, Hulk, Captain America, War Machine, Hawkeye, and Ant-Man.
The possible first artwork from Avengers 4 shows a few Avengers in a new light. First off, Captain America appears to have given up on his nomadic character as he appears without the beard in the picture. The superhero is also seen sans his armour gifted by Black Panther in Infinity War.
Interestingly, Bruce Banner's Hulk seems to have reappeared for the battle. The superhero, who chose not to participate in the Infinity War, is seen in a Black Panther styled suit (Shuri designed it for him?) and charging into a fight with others.
Another takeaway from the picture is Hawkeye's return. The superhero's whereabouts have been under the wrap since the first pictures of Infinity War released. Captain Marvel is seen in a blue-and-red coloured suit as compared to her green suit seen in set photos from her solo movie.
Black Widow is back with her red hair and Thor holds his new weapon Stormbreaker in the picture.
Check out the leaked Avengers 4 artwork here:
Apart from the leaked artwork, another Avengers 4 set photo was shared by Atlanta Magazine. The picture does not feature any Marvel superhero but the set-up is a recreation of The Avengers when the Battle of New York takes place.
The photo looks like the recreation of the scene when Nick Fury informs Iron Man about the nuke headed to New York City, which eventually unfolds into Tony flying through the wormhole and destroying Thanos' army.
The picture only further adds to the speculation of a time travel plot. However, the directors, Joe and Anthony Russo, hinted in an interview recently that time travel could not be the case.
Speaking to Josh Horowitz on a podcast, Joe Russo said, "Look, it's interesting because yes there are photos that always leak, and then there's lots of conjecture about what those photos mean. Certainly, there is a five-minute sequence in 'Civil War' around a piece of technology that was laid in for a very specific reason. So if you go back and look at that film, you may get a hint as to a direction."
Avengers 4 is slated to release on May 3, 2019. Christopher Marc of Omega Underground shared that the movie gets into reshoots this summer and the schedule should wrap by in early September.