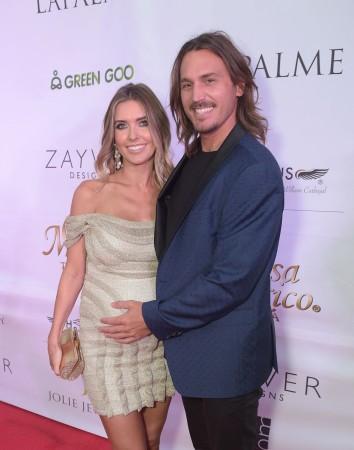 Looks like September 2017 is officially the month of celebrity splits. And that too for stars who have been together for almost a decade. The Hills alum Audrina Patridge has filed for divorce within a year of marriage to Corey Bohan, citing irreconcilable differences, as confirmed by People.
Also read: Watch 'The Hills' 10th anniversary special online: Will Spencer Pratt and Heidi Montag join Lauren Conrad?
The two began dating in 2008 and have been on and off for several years before they split dramatically on the reality show Audrina in 2011. However, they got engaged in 2015 and tied the knot in November 2016.
Audrina and Corey have a one-year-old daughter named Kirra Max, who was born in June 2016.
People reported that the reasons behind filing for divorce were incidents of domestic violence. Audrina has also filed for a temporary restraining order and child abduction prevention order against Corey.
As expected, Audrina has turned to her tight-knit family for support in this situation.
"Audrina is leaning on her family. She is extremely close with her parents, brother and sister and they are all supporting her," a source shared with People.
"They're a very tight family and protective of her. They just want what's best for Audrina and Kirra," the source added.
The 32-year-old former reality-TV star on September 18 submitted a declaration where she cited multiple instances of emotional abuse, accompanied by violent outbursts, from Corey.
"I am fearful of [Corey's] temper because he cannot control his swearing and personal attacks on me, even when in the presence of our young daughter," she said.
The source close to her also claimed that ever since the divorce has been filed, "physically, Audrina is okay. But she's devastated." They added: "This is the end of a long-term relationship and she never wanted this to happen. It's a disappointment on so many levels to say the least. It's painful and it's really hard."
The source claimed the incident to be "unfortunate for everyone" considering how long Corey has been in Audrina's life.
Despite being on and off for three years and post their dramatic on screen split in 2011, Audrina was towards the end of that year gushing about how promising her relationship with Corey looked.
All that glitters is clearly not gold, as it seems for the designer.
Then again, their relationship has been tumultuous from the beginning. And when rock solid power couples like Chris Pratt and Anna Farris and Fergie and Josh Duhamel could call it quits, fans can only hope this will be the last celebrity split of 2017!