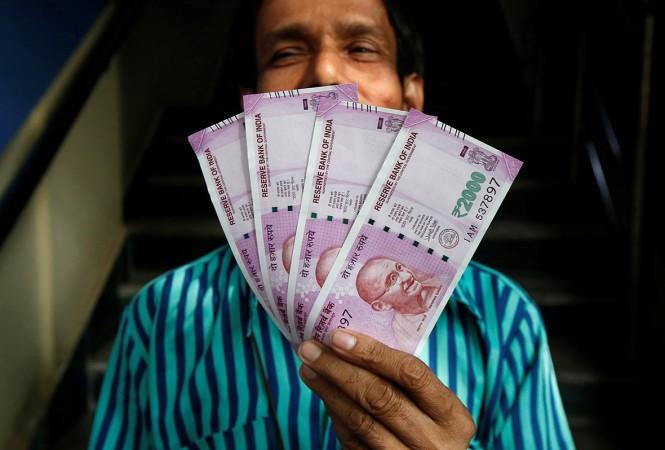 Economic Affairs Secretary Shaktikanta Das has said that ATMs across the country would begin dispensing new versions of the high-denomination currency notes, especially the Rs 2,000 notes, from Monday or Tuesday.
"The recalibration process in ATMs has started. The number of recalibrated ATMs will be stepped up in the next few days," Das said.
However, the withdrawal limit has been increased to Rs 2,500 in only those ATMs that have been recalibrated to dispense the new Rs 2,000 and Rs 500 notes.
Das said that the "supply of cash" in 1.3 lakh post offices will be enhanced "so that they can give cash to the people who have accounts in such branch post offices."
The Economic Affairs Secretary further highlighted that a "task force" has been set up under the chairmanship of the Reserve Bank of India deputy governor to "expedite the process." The task force has been "mandated to work closely with banks and agencies involved with disbursement and recalibration of software and hardware of ATMs" so that cash can be made available to citizens as soon as possible.
Das said that several of the two lakh ATMs do not have the new notes due to which many ATMs have not been functioning. This is why the task force has been formed.
Das further added that the withdrawal limit of Rs 10,000 per day has been scrapped, while the withdrawal limit of Rs 20,000 per week has been increased to Rs 24,000. Citizens can directly go to the bank once a week and withdraw Rs 24,000 in one go as well.
Small business entities finding it difficult to disburse daily or weekly wages to workers and making sundry payments need not worry since the government has decided to increase the limit "in respect of business entities having such current accounts that have been operational for at least three months" to Rs 50,000 per week.
The district central cooperative banks will also receive cash to facilitate withdrawal from the accounts held by customers at such banks to strengthen the supply of cash through the banking system, Das said. He added that the RBI has informed of the availability of enough cash in the entire system and that "there is no reason for the public to feel any kind of panic."
A team of seven joint secretaries has also been formed to deal with the problem. Each joint secretary has been allotted four to five states as well as five to six banks. They are in touch with the bank officials.
"State chief secretaries and banks have been instructed to identify such rural pockets that have not been supplied enough cash and then immediately dispense cash to them through banking correspondents or mobile banking facility. In India, every household keeps some amount of cash for urgent requirement," Das said.

"There are small businesses, vegetable vendors, small shops who also keep some amount of cash. To ensure that they are not put to any inconvenience, it has already been announced that cash deposits up to Rs 2.5 lakh in banks will not be looked into or referred to the Income Tax department. Citizens with cash deposits below the mentioned amount need not worry," he added.
When asked about the problems being faced by patients at hospitals regarding payment of bills, Das said that banks have been asked to provide mobile banking facility to hospitals for the convenience of the patients.