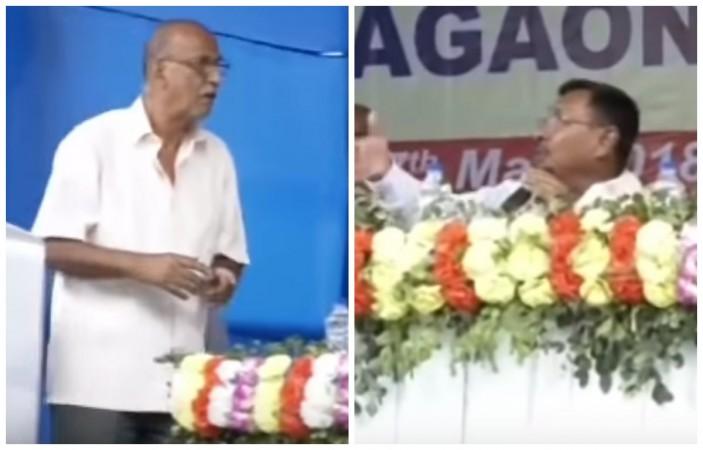 Bharatiya Janata Party leader and Union Minister Rajen Gohain misbehaved with a retired teacher during a public event at Nagaon in Assam.
The BJP leader, in a video, is seen lashing out at the elderly person when he was speaking about bad roads in the area during his speech at a Swachh Bharat Mission program Monday.
Gohain interrupted the retired teacher while calling his speech "nonsense". He questioned his intention behind making such allegations at a public platform.
"Over the years, the locals in Amolapatty's BB Road sub-way have been suffering a lot due to the poor road conditions but they still hope that the new government and new MLA will take steps for improving the roads. I have been submitting applications over the time but no initiatives have been taken," the retired teacher said during his speech, according to ANI.
Before he could finish, the Union Minister interrupted and asked why he started talking about those issues publicly, instead of talking to him personally.
Without letting him make his point, he went on to question the retired teacher's motive behind making the accusations at a public platform. "What benefit are you trying to seek here? What is your intention and motto behind talking such things here publicly? You could have told me personally if you had any complaints. What nonsense," Gohain on the stage.
The retired teacher was reportedly sharing the stage with others before he made this speech. But after he was interrupted, he decided to return to his seat on the stage, but a person said to be an aide of the minister, forced him to leave the place.
Gohain then went up to the retired teacher and spoke to him in a threatening manner.
This shocking behavior of the Union Minister triggered massive outrage among the people of the region. All Assam Students Union even staged a protest and burnt Gohain's effigies on Tuesday, according to ANI.
Watch the video here: