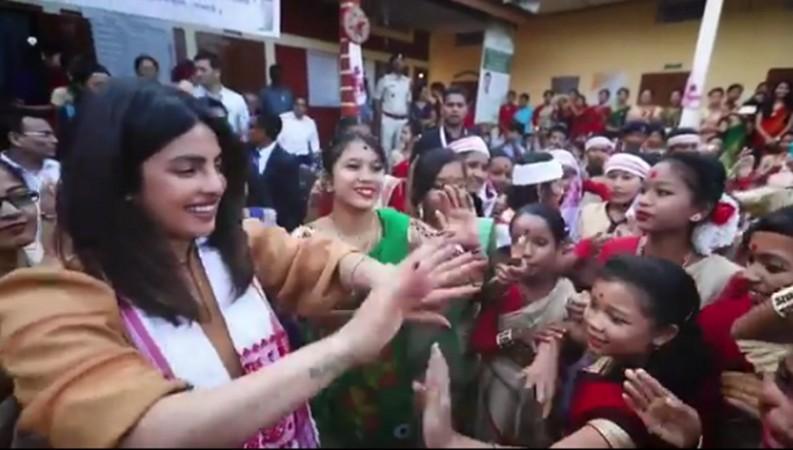 Priyanka Chopra is currently in Assam and enjoying the time like never before. She landed in Jorhat on Saturday, April 28, and was seen spending some time with the school girls over there when she paid her visit to the Subarna Prabha Bordoloi Girls High School. And moreover, she also tried her hands on Bihu dance, which is the state's native folk dance and is performed by both men and women.
Wearing a traditional attire, Priyanka was seen doing the brisk dance steps and rapid hand movement with the school girls. Sharing some happy moments on Instagram, she wrote, "The part I enjoy the most... joining in the fun! These young ladies put on an amazing performance for me and it was great to see their confidence and excitement towards life. This is in large part because they are in a school environment that keeps them safe. They are in charge of building their own futures...their own lives. Keeping a girl in school has so many positives, especially seeing them happy and thriving."
She also took to her Instagram story section and admitted that she clearly needs a few more classes of the Bihu dance before attempting it again.
Later, Priyanka also donned the Assamese attire and there's no doubt the desi girl slayed it with her style. She also tasted the lavish dinner while listening to some of the local Assamese songs.
After taking the Hollywood by storm with her role in Quantico TV series, Priyanka Chopra will be coming back to Bollywood with Salman Khan's Bharat which she hadn't done in many years.
"Bharat is the Indian movie I signed this year. It's the quintessential Bollywood movie, which I haven't done in many years. A lot of them were dramatic and thematic. This one's going to be out and out entertainment. I'm excited! I haven't been back to do a movie in two or three years now," Priyanka told Esquire magazine in an interview.
Director Ali Abbas Zafar, who announced Priyanka as the lead actress for Bharat a few days ago, said that only the desi girl can do the justice to the role in the film.
"I feel she is an extremely talented actor and she has proved that over a period of time with a lot of films. What's really important is that the character of the girl in the film is very strong and we wanted to cast a very strong actor, who can do justice to that role," Ali told Hindustan Times.
Meanwhile, the actress recently confirmed that she has received an invitation to the royal wedding of Meghan Markle and Prince Harry who will get married on May 19 at Windsor Castle. She also revealed that she is not a bridesmaid in Harry and Meghan's wedding.