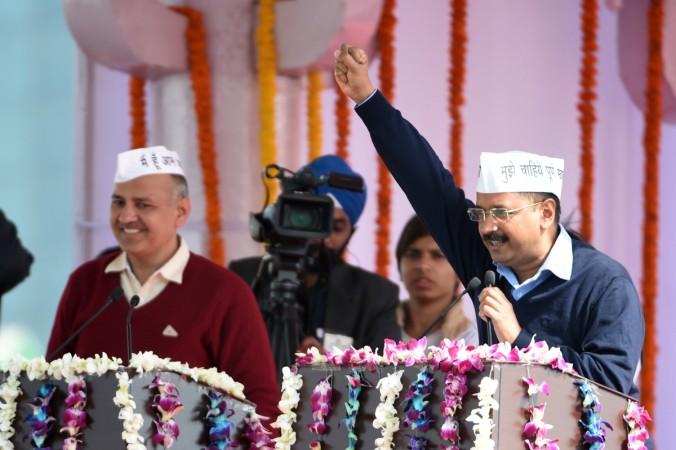 Taking time off from his apologizing spree, Delhi Chief Minister Arvind Kejriwal threw the hat in the ring and confirmed Sunday, March 25, that the Aam Aadmi Party (AAP) would contest the upcoming Haryana Assembly elections.
Kejriwal, the AAP national convener, sounded the poll bugle for the state elections slated for October 2019 while addressing a "Haryana Bachao" (Save Haryana) rally at the Old College Ground in Hisar.
"I am taking a pledge at my birthplace that the AAP would form next government in Haryana and Kejriwal would do what other parties have failed to deliver in their regimes," Times of India quoted the Delhi chief minister as saying.
Kejriwal wasted no time in making a jibe at the Congress and the Bharatiya Janata Party (BJP) during the rally. He claimed the AAP humiliated both parties during the Delhi Assembly elections in 2015.
While showcasing his achievements in Delhi, he claimed the AAP would ensure that government-run schools and hospitals in Haryana would function efficiently under it, TOI reported.
During his 30-minute-long speech at the "Haryana Bachao" rally, Kejriwal said he expected his party to win the Haryana elections by breaking the AAP's record when it won 67 out of the 70 seats in the 2015 Delhi Assembly elections.
Kejriwal, who hails from Siwani village in Haryana, also recalled his schooling days in Hisar. He said he would create a Delhi-like "miracle" in his "motherland", something that the Manohar Lal Khattar-led BJP government had failed to do, TOI reported.
"We will create a new Haryana. If you want peace, security, schools, hospitals, roads, then vote for the AAP," Kejriwal said during his speech.
The AAP leader also said he would implement the Swaminathan Commission report for the welfare of farmers in Haryana.
"We will soon initiate the process to choose candidates for all 90 seats in Haryana. People of the state are fed up with the politics of CBI (the Congress, the BJP and the Indian National Lok Dal or the INLD), whose leaders only promote their family members," Haryana AAP convener Naveen Jaihind was quoted by The Indian Express as saying.
The official Twitter handle of the AAP posted: "For decades they have been oppressed, its time to fight, its time to rise for every AAM AADMI of Haryana!"