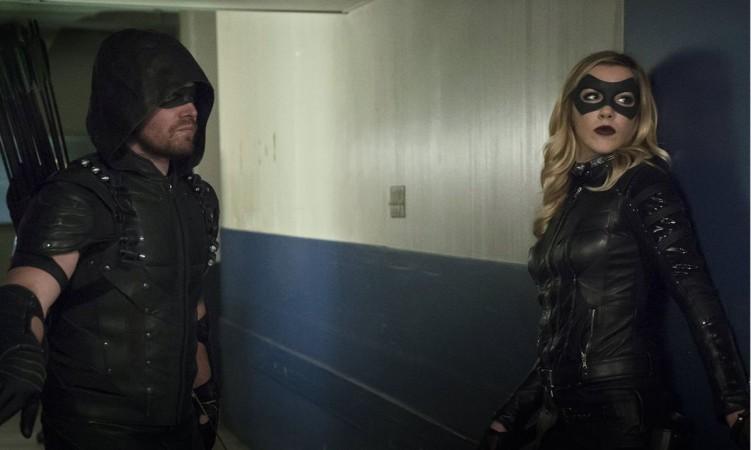 After the shocking death of Laurel Lance (Katie Cassidy) in "Arrow" Season 4 episode 18, the CW show has gone a break that is frustrating its fans. The show will return on Wednesday, April 27, and it is understood that "The Flash" and "Legends of Tomorrow" will both have follow-up stories to the events of "Eleven-Fifty-Nine."
As fans of the DC-based CW shows know, Laurel's sister Sarah (Caity Lotz) is busy travelling through time trying to stop Vandal Savage (Casper Crump) from taking over the world. During one of their trips earlier in Season 1, the legends had travelled to "Star City 2046," where Sarah had learnt that her sister had died along with the rest of her family.
It will be quite shocking for Sarah to learn that her sister had died much before that. She is expected to learn the truth in the upcoming episode. It has already been confirmed that Laurel will return to "Arrow" in flashback scenes, and considering Sarah has a lot of memories with her, fans can expect to see her in "Legends of Tomorrow" flashbacks as well.
Also Read: Will Tom Cavanagh not return for "The Flash" Season 3?
Meanwhile, an Earth-2 version of Laurel is expected to debut in "The Flash" Season 2 episode 22. Barry (Grant Gustin) is planning to visit Earth-2 soon, and Laurel is going to be a meta-human he encounters there. Laurel's superhero persona is known as Black Siren in the Earth-2 version. This means the Black Canary is truly no more, but Black Siren is expected to be closer to the comic book version of the Black Canary than Laurel of "Arrow" was.
Back in "Arrow," the team will try to cope with the death of one of their own. Diggle (David Ramsey) will be the one most hit by the death, and blame himself for it. The promo for "Canary Cry" shows he gets reckless and even attacks Ruvé Adams (Janet Kidder), wife of Damien Darhk (Neal McDonough).
Captain Lance (Paul Blackthorne), who also feels immensely guilty, on the other hand tries to bring his daughter back from the dead. Considering he has put Sarah in the grave only to have her return to life both times, he is quite optimistic about seeing Laurel again. Then again, the secret promise Laurel asked Oliver (Stephen Amell) to make could have been to never try to bring her back.