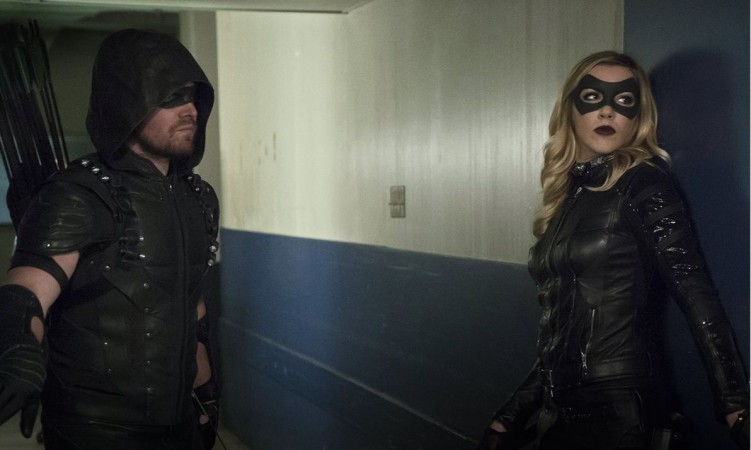 "Arrow" fans had a rude awakening when their beloved Black Canary (Katie Cassidy) died at "Eleven -Fifty-Nine," which was Season 4 episode 18. This should have ideally solved the mystery of who is in the grave, but recent set photos from "Arrow" Season 4 suggest Laurel's death may have been faked.
SPOILERS AHEAD
A new series of set photos shared by TV Line shows Oliver and a few other people attending a funeral. The photos show a grieving Captain Lance (Paul Blackthorne) being consoled by his former wife Dinah (Alex Kingston). It looks like the right setting for Laurel's death, but the tombstone reads Clayton, as in Oliver's (Stephen Amell) baby mama Samantha Clayton (Anna Hopkins).
Although the first name is hidden behind Oliver, you can see a "W" if you look closely, suggesting the person in the grave could be Oliver's son William Clayton (Jack Moore). It would be extremely tragic if "Arrow" kills off a 10-year-old boy, but it looks like that's where the CW show is heading.
Meanwhile, Laurel's death can more or less be written off as fake. As fans will remember, in the final moments of her life Laurel had told Oliver she wants him to promise her something, and dies soon after an off-air conversation.
Also Read: Wally gets closer to becoming Kid Flash
The scene itself was a tell about her fake death, but Oliver's lukewarm reaction to the death and the sudden outburst of "she was fine" was certainly the last nail on the coffin [no pun intended]. The photo Laurel took out right before her death also seems to have some connection to Taiana (Elysia Rotaru).
The Russian had made a deal with Oliver back on the island right after she saw the same photo of Laurel. She promised Oliver if he were to die on the island, she would go to Star City and tell Laurel Oliver was a hero who saved many lives. Taiana also made Oliver promise he would do the same thing for her if the fates were reversed. These all seem too fishy to be coincidences.
Coming back to the photos, it is also pretty weird that Captain Lance, who is in a pretty serious about his relationship with Donna Smoak (Charlotte Ross), is with his ex-wife at the funeral.
The truth will possibly get a little clearer when "Arrow" Season 4 episode 19 "Canary Cry" airs at 8 p.m. (EST) Wednesday, April 27.