Argentina, in serious disarray, is facing Nigeria today in the Fifa World Cup do-or-die battle. Nothing less than an emphatic victory will help them limp into the next round. Much has been written about Lionel Messi, the Argentina squad, Jorge Sampoli and all that's gone wrong with the line-up, the formation, the strategy and the attitude. This story isn't about any of those.
This is about Mauro Icardi and his wife Wanda Nara. Who are they? Icardi is a top-class Argentine striker who is also the captain of Italy's Serie A side Inter Milan. And Nara is his wife, who is also one of the most powerful football agents in Italy. She also happens to be the ex-wife of Maxi Lopes, former Argentine international and a close friend of Lionel Messi.
Is Icardi the reason behind the disharmony in the team? Did Messi block Icardi's inclusion in the Argentina World Cup squad 2018? Did someone twist Sampoli's hand when he sat down to pick his 23-member squad? Would Messi and co-midfielder Javier Mascherano have found it difficult to pass the right balls to striker Icardi? Is Messi the reason Sampoli had to choose 'unfit' Sergio Agüero and out-of-form Gonzalo Higuaín?
There are no definitive answers to these questions. But certainly the Icardi-Nara question will come back to haunt Argentinean football if Messi and Co go down against Nigeria today, bringing the curtains down to an ignominious campaign.
Icardi is a hated man in Argentina football. Most of the current and former members of the squad haven't forgiven him for what he did to Maxi Lopez. That's why, despite his brilliance, Icardi never got a chance to represent Argentina in big league games.
Last season, Icardi scored 29 goals in 33 Serie A matches, a performance that has few parallels. However, the outstanding striker wasn't in the squad when Argentina lost three international finals back to back -- The World Cup in 2014, and the Copa America finals in 2015 and 2016.
When the football pundits and fans take stock of the Messi legacy decades later, these three lost finals will be a serious blot. What if Messi had won the 2014 Cup for Argentina? What if he won at least one of those Copa finals? Remember, Argentina last won the Copa America in 1993 and the World Cup in 1986.
Has the Lopez-Icardi-Nara trio been a blight on Argentina football and a serious reason behind the painful Cup drought? More importantly, did Messi have a role in the serial omission of Icardi? When the Inter Milan captain was omitted for the 2018 World Cup squad, one of the purported reasons cited was his lack of playing time with the national squad. That sounded like an irony. He was never given enough chances.
Several players had raises concerns about Icardi's role in the team and the suspected manipulations that led to his serial omissions. Hernan Crespo, a former world cup playing member of the Argentine side, was one of those.
"It seems to be that Icardi is not one of Messi's friends. The national team is now made up of a magic circle, do you understand me? Icardi is not part of the circle and therefore, unfortunately, he will not go to the World Cup in Russia. This is my opinion," Crespo told Gazzetta dello Sport.
Former midfielder Juan Sebastian Veron also called into question the decision to omit Icardi. "I do wonder why someone who has scored so many goals for Inter, who isn't in the older generation, isn't at the World Cup. "He scores so much that he had to be on the list but only Sampaoli knows the reason."
Legend Diego Maradona, who retains considerable influence in Argentine football, minced no words as he condemned Icardi. "[Icardi] knows how to (have sex with his friends wife). He does that very well. He can find his friend's house easily. He doesn't need a GPS for that. That's why Higuain has to have another chance," Maradona said.
That's despite his known hatred for Aguero, who would have been at the receiving end if Icardi were in the team. Aguero is Maradona's estranged former son-in-law and the legend doesn't either see the logic of him being in the national team now.
The Icardi-Nara question is certain to haunt Argentine football for long. If Argentina fails at the Group stage, the puzzle will become a myth in the making.
Interestingly, Icardi was having his time under the sun as Argentina struggled against Iceland and Croatia. After the Iceland draw, one of Icardi's Instagram posts on vacation hinted at the good time he was having. In another post on the eve of the tie against Croatia, he liked a photo of the Croatia squad shared by his inter Milan teammate.
Maxi Lopez, the other silent end of the controversy, has always maintained that he doesn't have any role in the omission of Icardi from the national team. His closeness to Messi was interpreted as a reason why Icardi didn't make the cut. But Lopez tosses in another logic. Would he do anything that irks Icardi considering that his two children in the marriage to Nara are with Icardi now?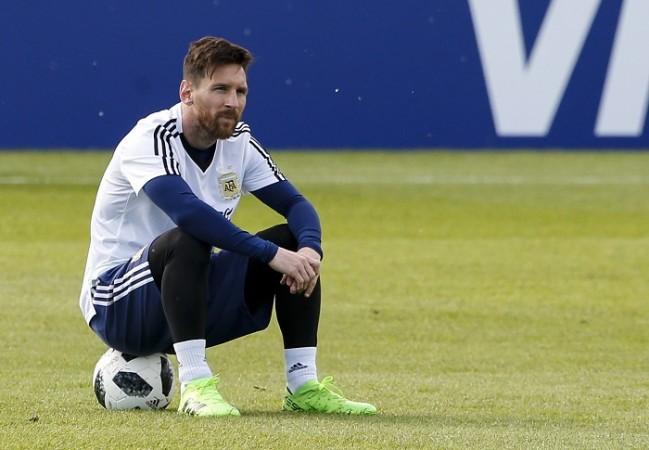 Lopez had once famously refused to shake hands with Icardi when his side Torino faced off against Inter Milan.
Nara and Lopez had three children together, before she moved on and married Icardi after a frenzied and much hated affair. Under-fire Icardi tried a few times to prove that he didn't actually steal someone else's wife, a charge that has come to stick. he wrote a book, as if it were, to disprove the theory. In it, he said Nara's marriage to Lopez was nearing its end when she came on to him.
Wanda Nara while still in the marriage, once mysteriously asked him to get an iPad from the US. "I was surprised because I usually spoke with Maxi, not with her. She asked me if I could buy a new iPad in the US, it wasn't available yet in Italy at that time. That episode, however, made me think. Did Wanda really want that tablet, or was she seeking an excuse to get in touch with me?" he wrote.
In the end, that relationship made the talented striker a pariah in Argentina. Would Argentina have won a World Cup and three Copa titles if he were in the team? Merely a hypothesis. Now, it's up to Messi, one last time, to disprove the Icardi theory. One last time, today in Russia!