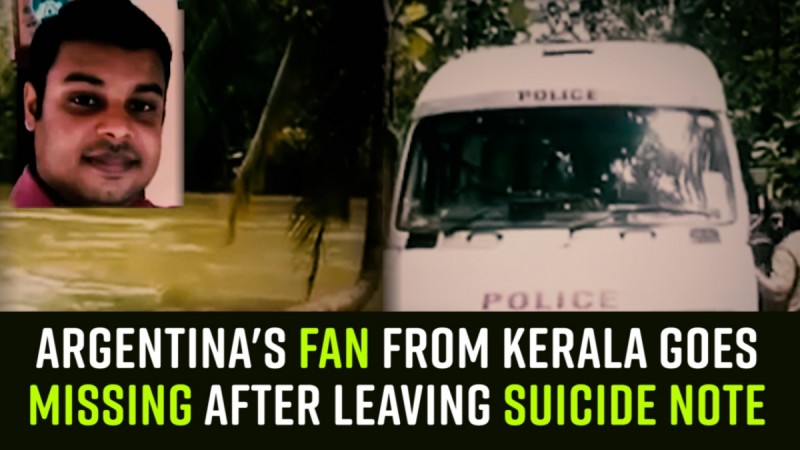 Lionel Messi didn't certainly deserve this. His birthday had to be better. For him and his fans. Especially those millions who hanker after the Messi name - like transfixed dervishes - from a tiny sliver of land called Kerala.
The tragic news that greeted football-mad Kerala on Sunday -- Messi's birthday -- was that the body of Dinu Alex had been fished out from a river near his home. Dinu, one of Messi's most ardent followers, had jumped into the swollen waters minutes after Messi and his team lost miserably against Croatia last week.
The grief-stricken fan scribbled a suicide note that said he had seen everything that he wanted to see in this life and there was nothing left. Dinu couldn't come to terms with the fact the storied team had lost so badly. That Messi, for whom he had 'given his life' was merely strutting and fretting around the field.
Was it all Messi's fault? Is he actually a burden on the team? Should Messi gracefully opt out of Argentina duties? Is he a serial fail when it comes to national duty? Why is Messi a pole star in his club appearances but turns out to be a mere mortal playing for Argentina? Why does Messi turn into a nerve ball when playing on the world stage? How come the his GOAT rival Cristiano Ronaldo plays so well for Portugal?
Well these questions and the uncharitable answers to them are a different story. He has had them all. After the 2014 Cup loss. And after the Copa America. But Messi's true fans will, however, vouch for his angelic grace, his superhuman artistry.
And some give him their lives. Literally. A suicide note found from the home of Dinu Alex, 30, showed to what pitiable depths the craze after football superheroes can descend.
"There is nothing left for me in this life. I am taking a plunge into the depths of death. Nobody is responsible for my death," the suicide note read.
Other notes found in his room, decked up with Lionel Messi merchandise and posters, showed traces of obsessive craze after the footballer and the Argentina team bordering on personality disorder.
One note read: "Messi, my life is for you, waiting to see you lift the Cup. .. My team is starting its journey, carrying my life. I will do it," the TOI reported.
Dinu, an accountant working with a private firm, bought a new Argentina jersey as he prepared to watch the crucial match against Croatia.
In hours, as Croatia's golden generation team decimated Argentina, Dinu's walk to the swollen banks had begun. Three days later, his family received his icy cold body pulled up from the depth of the river.
That's a deadly football story that we hope Messi didn't have to read on his birthday.