Argentina football team may not be in a good space at Fifa World Cup 2018 in Russia after a shock draw and a defeat in their first two matches but the drug traffickers back home are trying to make football fever that has gripped the world.
Six people, including four men and two women, were arrested in La Matanza, Buenos Aires on Friday, June 22 for allegedly smuggling drugs and weapons, hidden inside replicas of World Cup trophies.
Police said that criminal organisations in the South American country have been making use of the merchandising boom to traffic drugs and weapons without raising suspicion.
Around 200 kg of drugs — 150 kg of marijuana, 20 kg of cocaine and around 1,800 doses of paco, a home-made substance popular in Argentina were packed inside the fake World Cup trophies, according to RUPTLY.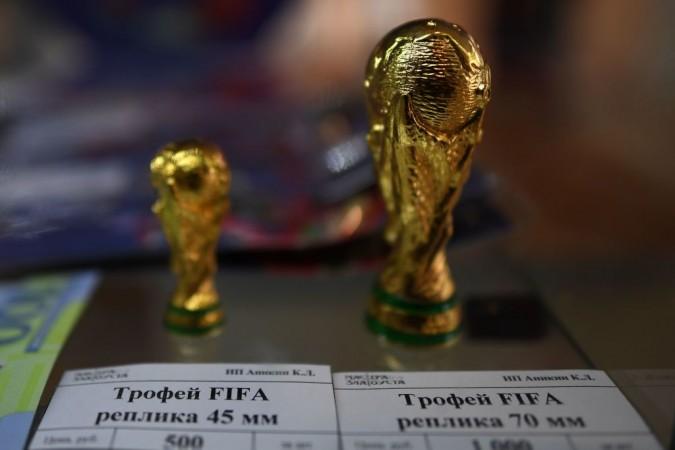 Around 400,000 Argentina pesos ($ 14,820) along with rifles and pistol were seized from the group during multiple raids carried out by police in the neighbourhood of Isidro Casanova, a city in La Matanza.
"Each cup, where the drugs were transported, contained approximately a kilo and a half of cocaine, which means that they had a business in operation. A kilo and a half of cocaine at that purity is very important," Cristian Ritondo, Minister of Security of Buenos Aires Province, said.
He added: "Here there are around 150 kilos of marijuana, 20 kilos of cocaine, lots of doses of Paco and a large number of weapons."
Cocaine-soaked Colombian World Cup jerseys
In another similar incident in Colombia, police seized 14 cocaine-soaked t-shirts of the national football team at the international airport in Bogota on June 22, InSight Crime reports.
The drug traffickers had intended to send the shirts to the Netherlands. Around 5 kg of cocaine was dissolved into the liquid, in which the t-shirts were soaked. They had planned to extract the drug upon arrival in the Netherlands and convert it back to powder.
Major events like the football World Cups and the Olympics have always been providing safe meeting places for drug traffickers from across the globe, according to the web portal. Narcos have been using innovative methods to move drugs for a long time now and the use of football merchandise is one among them.