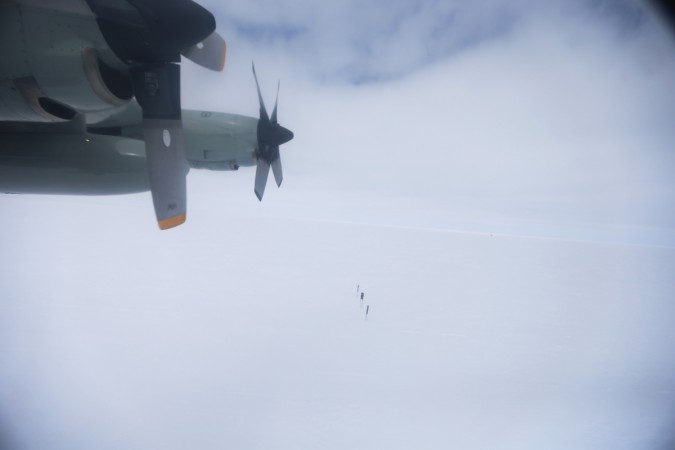 A man, who was struck March 20 by a plane taking off from ice in Alaska's Beaufort Sea during Navy exercises, has now described the accident that led to serious head and neck injuries.
The man, whose name has not been revealed, told National Transportation Safety Board (NTSB) investigator Clint Johnson that he was trying to click a picture of "little LEGO guys" with the plane in the background for his kids when the de Havilland DHC-6 Twin Otter took off. The man was standing behind a snow berm next to the ice runway when the accident happened.
Johnson said the plane had started racing toward him, but it did not climb as much as he believed it would, and also started to take a left turn, which meant the left wing tilted toward the left side and was closer to the ground.
"The next thing he knew is he saw the wing, and that's all that he remembers. He remembered waking up in the medivac helicopter on the way to Deadhorse," said Johnson, as reported by Alaska Public Media.
The pilot and co-pilot heard a loud thump and faced trouble with the plane's control, which forced them to make an emergency landing back on the airstrip, according to the NTSB report.
The victim, who was a civilian employee of the Navy's Arctic Submarine Laboratory, said he had talked to the pilot about taking the photo beforehand. However, when the pilot was asked about this, he could not recall such a conversation.
Following an initial investigation, there haven't been concerns about the aircraft's weight and balance at the time of the flight taking off, said Johnson. Moreover, cockpit audio from the plane and the video of the collision have been reviewed by NTSB staff.
Homer-based Bald Mountain Air Service, the plane's owner, released a written statement about the incident Tuesday. However, nothing about the plane's status was revealed. Meanwhile, Johnson said the plane was not flyable after the damage caused to the left wing by the strike.