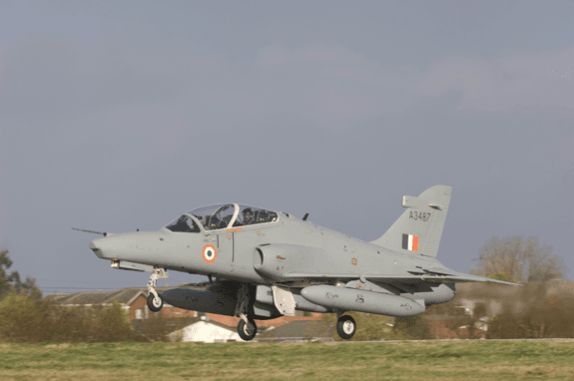 An Indian Air Force plane crashed in Odisha's Mayubhanj district Tuesday afternoon. The fighter trainer aircraft crashed at Subarnarekha's Topa ghat area of Mahuldangiri village of Baripada, reported Odisha TV.
The pilot of the aircraft was injured and has been rushed to a hospital. The aircraft had taken off from Kalaikunda Air Force Station in West Bengal.
The IAF has said that a Court of Inquiry will investigate the cause of the crash.
"Today afternoon (Tuesday) one Hawk aircraft met with an accident. The aircraft was airborne from Kalaikunda on a routine training sortie. The trainee pilot ejected safely. A CoI will investigate the cause of the accident," the IAF was quoted as saying by ANI.
Here are the specifications of the Hawk, according to the Hindustan Aeronautics Limited (HAL).
It is a tandem-seat aircraft for ground attack, flying training and weapon training.
It has a low wing and the body is made completely of metal.
The Hawk is powered by an Adour Mk 871 turbofan engine.
The aircraft is also equipped with an integrated navigation and attack system, radio and inertial navigation systems.