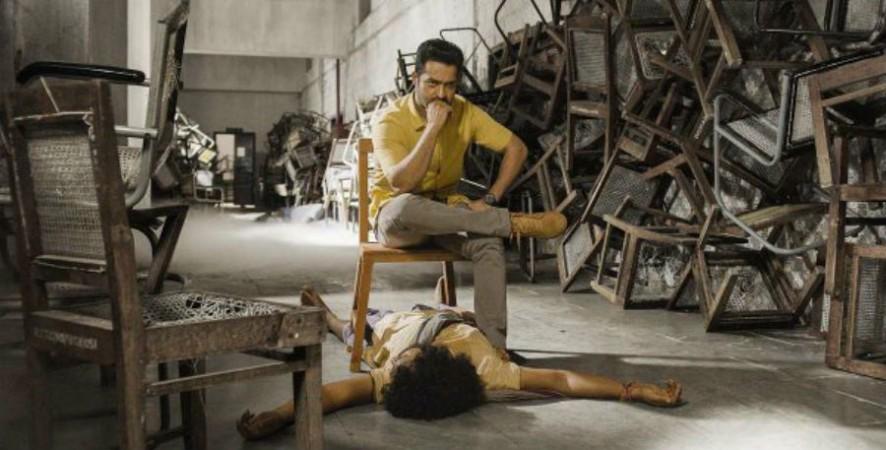 Jr NTR's Aravinda Sametha Veer Raghava (ASVR) has made good collections at the box office in the first week and crossed Rs 90 crore gross mark in Andhra Pradesh and Telangana (AP/TG) in eight days.
Having opened to humongous response, Aravinda Sametha collected Rs 38.30 crore gross at the AP/TG box office on the first day. The movie shattered the records of Bharat Ane Nenu and Rangasthalam and became the second non-Baahubali biggest opener after Agnyaathavaasi. The movie remained rock-steady and collected Rs 72.60 crore gross in the Telugu states in the four-day-extended first weekend. Aravinda Sametha success meet pics.
As usual, the Jr NTR and Pooja Hegde starrer reportedly witnessed 52.03 percent decline in its numbers on Monday, as it was a working day for most of the viewers. But some cinema halls ran to packed houses in the evening shows. But Aravinda Sametha went on to showing drop in its collections on the following weekdays.
Aravinda Sametha has collected Rs 18 crore gross at the AP/TG box office on the weekdays. Its total collection has reached Rs 90.60 crore gross in the Telugu states in the eight-day-extended first week. The film has shattered the records of Agnyaathavaasi (Rs 57.90 crore) Bharat Ane Nenu (Rs 73.80 crore) and Rangasthalam (Rs 86.730 crore). It is the non-Baahubali highest record.
The distributors have shelled out Rs 67 crore on its theatrical rights for the Telugu states. Aravinda Sametha is estimated to have earned Rs 58.48 crore for them and recovered 87.28 percent of their investments in seven days. The Trivikram Srinivas-directed film is expected to return the remaining money in the next few days.
Here are the area-wise earnings of Aravinda Sametha in AP/TG in six days. These numbers are based on various sources and they may not match with the actual ones. All the figures are in Rs and crore.
| | | | | | | | | | |
| --- | --- | --- | --- | --- | --- | --- | --- | --- | --- |
| Area | Day 1 | Day 2 | Day 3 | Day 4 | Day 5 | Day 6 | Day 7 | Day 8 | Total |
| Nizam | 5.70 | 2.85 | 2.60 | 2.65 | 1.20 | 0.90 | 0.70 | 0.85 | 17.45 |
| Ceeded | 5.45 | 2.00 | 1.70 | 1.80 | 0.86 | 0.67 | 0.60 | 0.82 | 13.90 |
| Vizag | 3.12 | 0.89 | 0.76 | 0.80 | 0.36 | 0.33 | 0.32 | 0.26 | 6.84 |
| G East | 2.78 | 0.46 | 0.40 | 0.40 | 0.25 | 0.22 | 0.18 | 0.17 | 4.86 |
| G West | 2.37 | 0.32 | 0.31 | 0.32 | 0.20 | 0.21 | 0.20 | 0.18 | 4.11 |
| Krishna | 1.98 | 0.53 | 0.49 | 0.52 | 0.25 | 0.22 | 0.17 | 0.20 | 4.36 |
| Guntur | 4.14 | 0.68 | 0.62 | 0.66 | 0.27 | 0.23 | 0.24 | 0.23 | 7.07 |
| Nellore | 1.06 | 0.27 | 0.22 | 0.25 | 0.16 | 0.12 | 0.09 | 0.08 | 2.25 |
| AP/T Total | 26.64 | 8.00 | 7.10 | 7.40 | 3.55 | 2.90 | 2.50 | 2.79 | 60.84 |