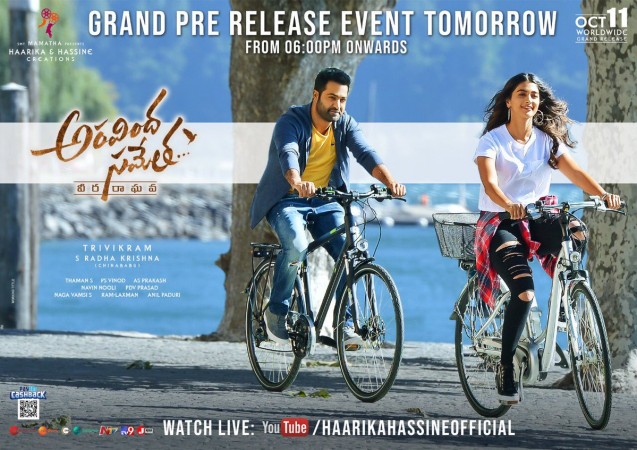 Jr NTR and Trivikram Srinivas' Aravinda Sametha Veera Raghava (ASVR) continued to rock the worldwide box office on Saturday, with its collection crossing Rs 100 crore gross mark in three days.
Amid huge hype and promotions, the Trivikram Srinivas-directed action movie was released in over 2,000 screens across the globe on October 11 and opened to an overwhelming response. Aravinda Sametha collected over Rs 60 crore and became the second biggest opener of 2018 after Agnyaathavaasi.
Aravinda Sametha received positive response from the audience, critics and celebs and a strong word of mouth helped the movie remain rock steady on Friday. But the film had a 50 percent downfall, which is the usual trend for any Telugu flick. This drop was due to the reduction in the number of the shows and ticket price in some centres. It fared well on Saturday as well without showing much decline in its numbers.
As per estimates, Aravinda Sametha has collected Rs 27 crore gross and Rs 24 crore gross at the wordwide box office on Friday and Saturday, respectively. The movie has collected Rs 111 crore gross in the global market in three days. The Jr NTR and Pooja Hegde starrer became the fastest Rs 100 crore grossing Telugu film of the year.
Made on a budget of Rs 60+ crore, Aravinda Sametha fetched Rs 92 crore for its producers from the sale of its global theatrical rights. The movie has earned Rs 66 crore for its distributors in three days and returned them 71.74 percent of their investments. The film is expected to recover another 15 percent on Sunday.
Here are the area-wise earnings of Aravinda Sametha in Andhra Pradesh and Telangana (AP/TG). These numbers are based on various sources and they may not match with the actual ones. All the figures are in Rs and crore.
| | | | | |
| --- | --- | --- | --- | --- |
| Area | Day 1 | Day 2 | Day 3 | Total |
| Nizam | 5.70 | 2.85 | 2.60 | 11.15 |
| Ceeded | 5.45 | 2.00 | 1.70 | 9.15 |
| Vizag | 3.12 | 0.89 | 0.76 | 4.77 |
| G East | 2.78 | 0.46 | 0.40 | 3.64 |
| G West | 2.37 | 0.32 | 0.31 | 3.00 |
| Krishna | 1.98 | 0.53 | 0.49 | 3.00 |
| Guntur | 4.14 | 0.68 | 0.62 | 5.44 |
| Nellore | 1.06 | 0.27 | 0.22 | 1.55 |
| AP/T Total | 26.64 | 8.00 | 7.10 | 41.70 |