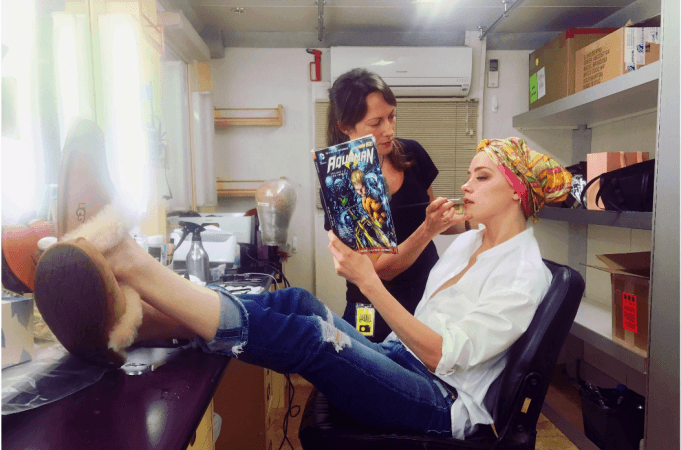 Aquaman has finished its principal shooting and the reshoots are underway. James Wan, who is at the helm of the project, recently teased the reshoots by announcing a new character and cast member's addition.
And now, Amber Heard teased her character from the DCEU film by sharing a beautiful behind-the-scenes picture. The actress, dressed in her Mera avatar, looked gorgeous in the selfie. The photograph gives fans a better look at her outfit.
In the picture, a part of Heard's face is seen with her headgear peeping into the picture but the focus is on her blue outfit and cleavage. She captioned the picture: "Aquafied yet again."
Fans took the comments section to express their excitement for the project. "Queen Mera I cant waittt," read a comment. "Best casting ever," added another. "I can't wait to see more of this awesome character!" a fan said.
Last year, director Wan shared the first look of Mera from the movie wherein she appeared drenched and her headgear was missing.
Fans were introduced to Heard's Mera in Justice League. Fans will be reintroduced to her character in Aquaman, where she plays the superhero's love interest. A trailer of the movie is yet to drop. However, some lucky fans were given a sneak peek into the project at the San Diego Comic-Con in July last year.
Aquaman is a crucial project for DCEU right now. After Justice League performed disastrously at the box office last year, all bets are placed on the Jason Momoa starrer to revive from the bad image the 2017 November release left.
Apart from Mera's look, fans were also informed that Wan added Randall Park to the film's cast during the reshoots. Park plays Dr. Stephen Shin in the DCEU film. In the comics, Shin helped a young Aquaman develop his powers but eventually begins to search where Atlanta is located. In the books, he plays the role of Aquaman's father's friend.
Aquaman releases December 21. It is the only DCEU release this year.