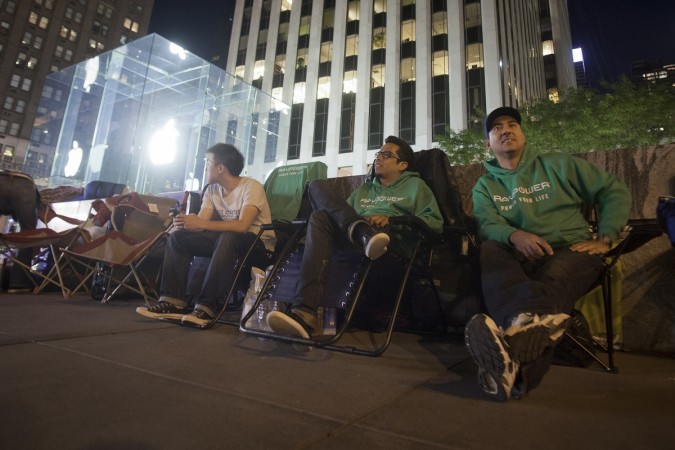 The most eagerly awaited smartphone, Apple iPhone 6 series is expected to get unveiled in just a few hours from now.
Apple fans residing in other corners of the world need not feel disheartened to miss the unveiling program as the American company will be streaming live webcast of the launch event online.
The Apple event is scheduled to take place at – 'Flint Centre for the Performing Arts' in Cupertino, California, USA at local time 10:00 am PDT (22:30 PM IST), on 9 September. The event coverage will be streamed live on the company's official site (APPLE LIVE).
[Note: In order to view the live streaming of the launch event from the Apple website, users are required have Safari 5.1.10 or later on OS X v10.6.8 or later OS versions; and to view from smart devces like iPhone and iPad slates, they should have Safari on iOS 6.0 or later versions. Streaming via Apple TV requires second- or third-generation Apple TV with software 5.0.2 or later]
Set your clocks for the Apple iPhone 6 series smartphone launch live coverage:
Highlights of the Apple Event:
The event is expected to witness some big announcements from Apple as the company has chosen the Flint Centre for the Performing Arts as the stage for unveiling the new devices, where thirty years ago, charismatic company co-founder, Steve Jobs presented the world, the first Macintosh computer PC.
Faced with criticism over the lack of iconic new devices, since Steve Jobs retired three years ago, company CEO, Tim Cook, earlier this year promised to investors (as reported by Macworld) that Apple is working on amazing devices, including new product categories (read smartwatch).
Even the cryptic invite- 'Wish we could say more' hints that the company has some tantalizing devices in store for us.
Now, that moment is just a few hours away and many are betting high that, Apple's new generation iPhone series is said to be the most significant upgrade over the predecessors in terms of size and internal hardware and also there is a bit of possibility that the US company might finally pull the wraps-off on the iWatch on Tuesday (9 September).
Apple iPhone 6: What we Know so Far
The upcoming iPhone 6 series smartphones are said to push Apple foray to a new device segment – phablet, which since its inception is dominated by arch rival Samsung.
Since the launch of the first Galaxy Note series phablet in 2011, Samsung never faced worthy rival, but things are about to change soon, as Apple is set to enter the big-screen smartphones arena with – one, a 4.7-inch model- iPhone Air (aka iPhone 6) and 5.5-inch model- iPhone Pro (aka iPhone 6L).
Both iPhone 6 (4.7-inch) and iPhone 6L (5.5-inch) are expected to ship with the new-generation 64-bit architecture Apple A8 processor, 1GB RAM, Touch ID finger-print sensor, 8.0-megapixel camera with f2.2 aperture (with the possibility of featuring OIS: Optical Image Stabilizations), NFC, and slightly larger battery (50-70-% more watts power to feed energy sapping iPhone 6L's large screen).
[Also read: Apple iPhone 6 Final Round-up: Expected Release Date, Specifications, Price Details]
Apple iPhone 6 Release Date Details: What we Know so Far
If history is taken as any indication, Apple will make the new iPhone models available in the market within two weeks after the official unveiling. Even a report from China suggests that the new Apple smartphones might hit stores on 19 September.
Apple iWatch: What we Know so Far
Apple Smartwatch is expected to come in two sizes and boast of flexible display panels. The New York Times, citing sources claims that the smart wearable device (iWatch) will boast health-related applications, fitness tracking, computing task ability, and also the wireless payment feature.
Apple iWatch Release Date Details: What we Know so Far
Though the company will unveil the iWatch on Tuesday, the device is said to be released only next year.
Popular market analyst, Ming Chi Ku (KGI Securities) in one of his notes (now available with MacRumors) to investor clients has claimed that Apple partner suppliers are having a tough time assembling the components (including flexible AMOLED display) in the iWatch, due to its small physical structure and this has reportedly postponed the release to early 2015.
This report seems believable because Motorola too used the same strategy to launch Moto 360. The company first teased the new smartwatch way back in March and finally released the device this month.